Ever wondered how well the end users will accept your app or website or how they will feel about it? This confusion can be surpassed only by presenting the product to potential users and getting feedback. But how can you do it without risking your reputation or wasting valuable time and money?
This is where usability tests come into the picture.
This article will highlight some of the best usability testing tools suitable for various aspects of usability testing.
What is Usability?
Usability is a measure of how well a user in a specific setting can use a product or design to reach a goal or objective that has been set. The usability of a plan works when its features meet the needs of the people who will be using it.
Usability and user experience are closely related concepts describing how people interact with a product, system, or service.
Usability is about how easily people use a product, system, or service – it focuses on the efficiency and effectiveness of an end-user's interaction. User experience is more holistic than usability; it encompasses how users think and feels when interacting with a product, system, or service.
Why is usability testing needed, and how can it help your business?
Usability tests evaluate the overall user experience by measuring the ease with which end users can accomplish tasks given to them. Most of the time, these tests are used to find out what problems users have, where they get confused or stuck, and what changes need to be made to the design.
Usability testing allows you to learn about user behavior, needs, and expectations before releasing the design into the public domain.
Choosing the best methods to run usability testing depends on several factors, including:
What do you want to achieve from the usability tests?
How much time and money can you invest?
Target audience
Most frequently used user testing methods
Heat mapping
A heatmap is a graphical representation of data that uses a color-coding system to show user activity. It is most commonly used to show user activity on specific areas in the interface of websites and apps, where it measures the frequency of clicks, scroll depths, etc.
Five-second test
Five-second testing is run by showing a design to a participant for just 5 seconds to measure how well and quickly the design communicates a message. The participant answers questions based on their memory and impression of the design. These answers are analyzed to understand the design's ability to communicate with its users.
First-click testing examines what a test participant would click on first on the interface in a functioning website, a prototype, or a wireframe to complete their intended task. First Click Testing allows you to evaluate how meaningfully and understandably your mobile/web app elements are linked.
A/B testing
A/B testing (split testing or bucket testing) compares two versions of a web page or app against each other to determine which one performs better.
Navigation Test
In Navigation tests, the user is presented with your interface and asked to complete a particular task in which each step the users take and the position and timing of their clicks/touches are recorded. This helps analyze how users navigate through your website or app or website, given a specific task or goal.
A survey is conducted among the users to collect their feedback and inputs, and quantitative data is derived on what users do and their opinions. This shows what the users do and feel, not the context behind it.
Session Recording
In Session Recording, the browsing sessions of actual website visitors are recorded. Behavior insights are gathered from these video records. This helps marketers understand user journeys on the mobile/web app, including clicks/ finger touch, scrolls, and more.
19 Best Usability Testing Tools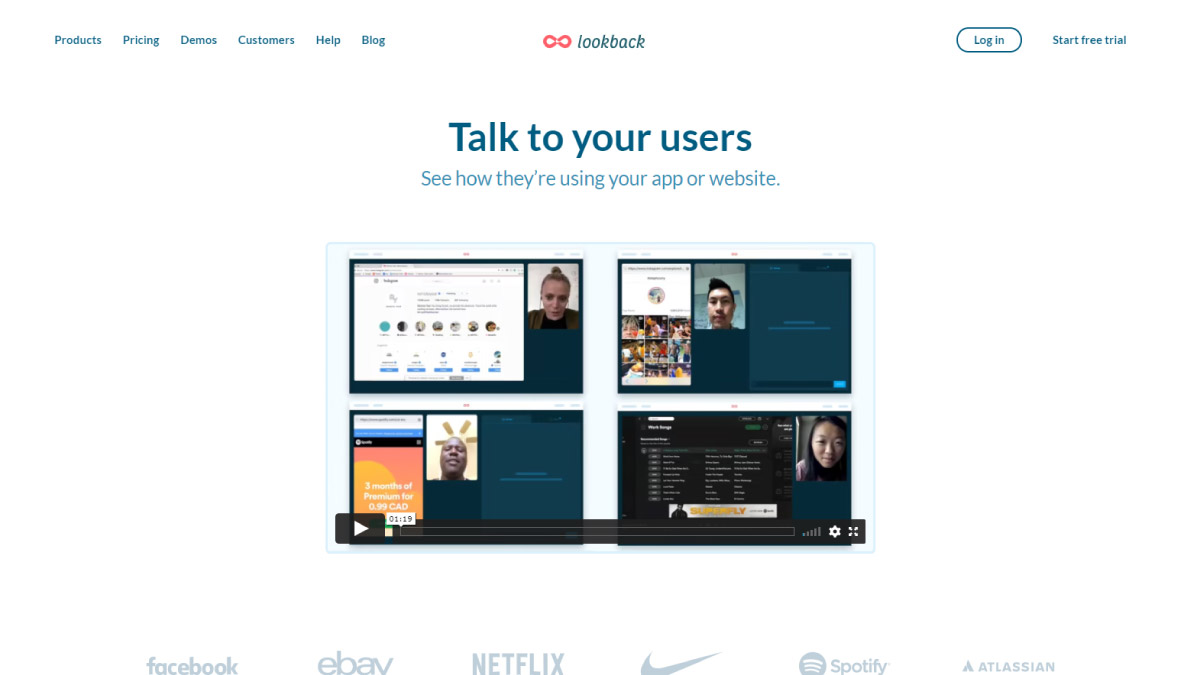 Lookback lets you interact with your customers using features like
Live share lets you Interview users from any corner of the world.
SelfTest lets you provide the users with a task they can complete on their own time.
Lookback also enables you to invite colleagues to watch the sessions, inspect device details, test prototypes, create notes and highlights, broadcast your research, gather recordings, etc. These recordings are done remotely and without equipment. The screen, touches, voice, and face of your test users are recorded.
Features
They have expert panel moderators to conduct interviews.
Clear instructions for an easy installation process.
Timestamped notes are available.
It enables the observers to go back and rewatch sessions
Pricing
Lookback only offers plans with annual subscriptions. They offer Team, Insights hub, and Enterprise plans.
Team – $99 per month for 100 sessions per year
Insights hub – $229 per month for 300 sessions per year
Enterprise – You have to contact Lookback for details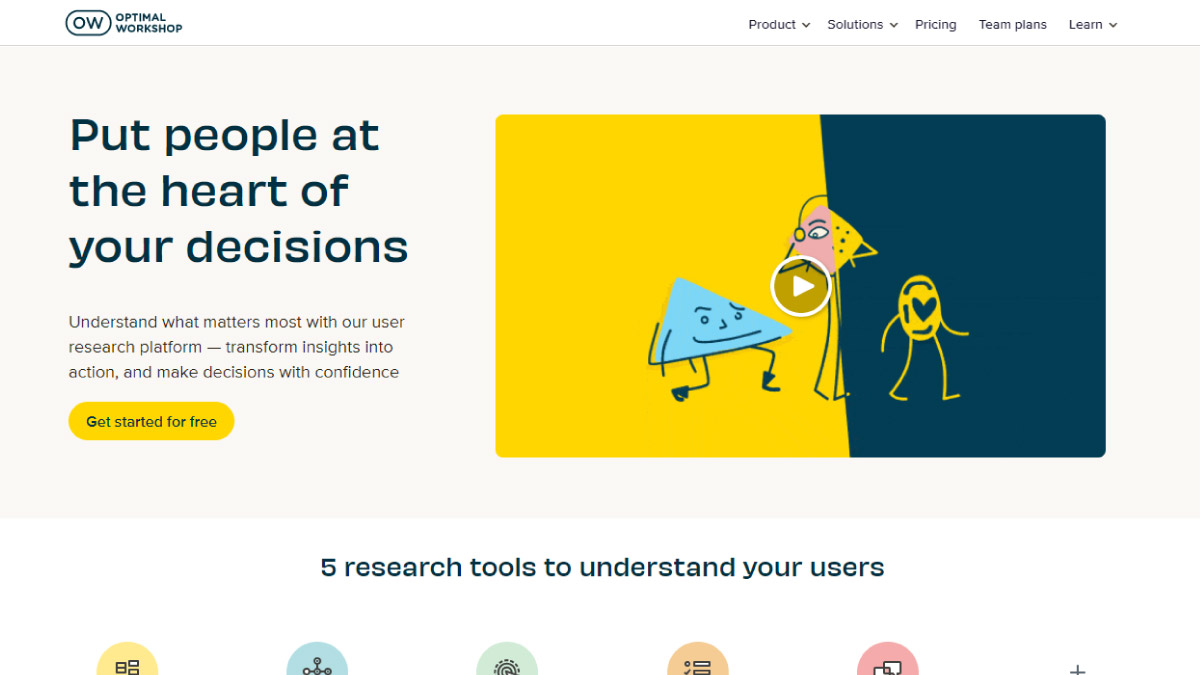 The OPTIMAL WORKSHOP provides a single analysis source for all your user insights. It also enables you to analyze and share your findings confidently and thus make informed design decisions.
Features
OptimalSort – The card sorting module helps to see how people conceptualize, group, and label ideas.
Treejack – provides you with the insights you need to build a website structure that works for the people using it.
Chalk mark – lets you test design prototypes with users quickly and efficiently, which includes faster iterations, feedback, and turnaround.
Questions – This helps you understand your customers and make informed decisions with the results you gain.
Reframer – Make a record of all the research notes you gain from interviews and tests and analyze them with easy-to-use analysis tools.
Test types needed for analysis. The payment options are incredibly reasonable for both a few and many tests.
Pricing
There are different ways to pay for different user levels, from $99 per month for basic research projects to $153 per month for collaborative teams.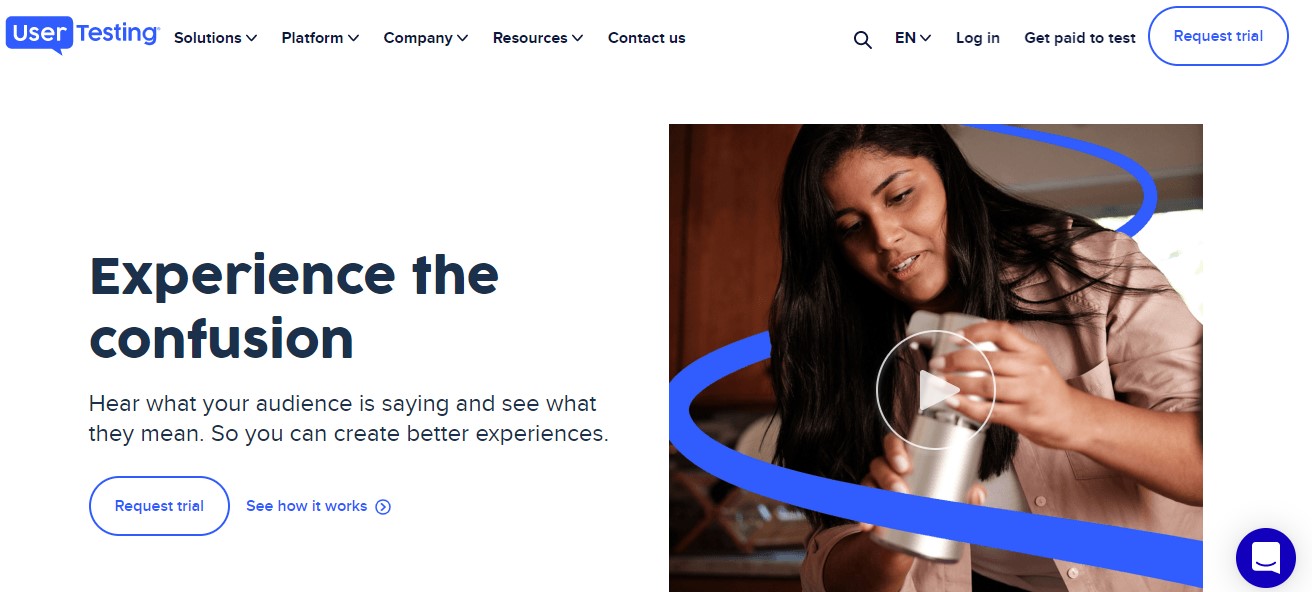 This usability testing tool enables you to receive user feedback remotely from actual users. You can see or hear customers' feedback while they use the product. This points out the problems they face with the product, thus making it easy for you to rectify.
Features
It allows you to choose target users and get prompt feedback carefully.
It lets you see your app's users rather than in a test environment.
Test video recording happens automatically, and these can be easily added to your presentations.
Viewing the tasks for each session separately makes it easy to analyze the results. UserTesting provides
excellent customer service.
Pricing
UserTesting prices their service at individual and enterprise levels. They provide customized plans according to requirements. For the enterprise level, they provide free trial runs too.

You can act instantly with a remote usability testing tool that provides quantifiable user insights. Also, Maze works well with top design platforms like Figma, InVision, Adobe XD, Marvel, and Sketch and helps you turn your ideas into tasks and test them.
Test results gets instantly translated into metrics are shared with stakeholders as actionable reports.Maze offers an outstanding solution for design-led organizations, with easy export and setup.
Types of research Maze can help you include:
InVision Analytics
Prototype testing
Clicks Heatmap
Painless tester gathering
Easy split testing
Product Design Analysis
Features:
Instant test results from quantitative data
Usability testing and automated usability testing
Advanced filtering
Cross-browser testing
Pricing
Subscribers can choose from four pricing plans: a free trial, a starter at $42 per month billed annually, and team and enterprise custom plans.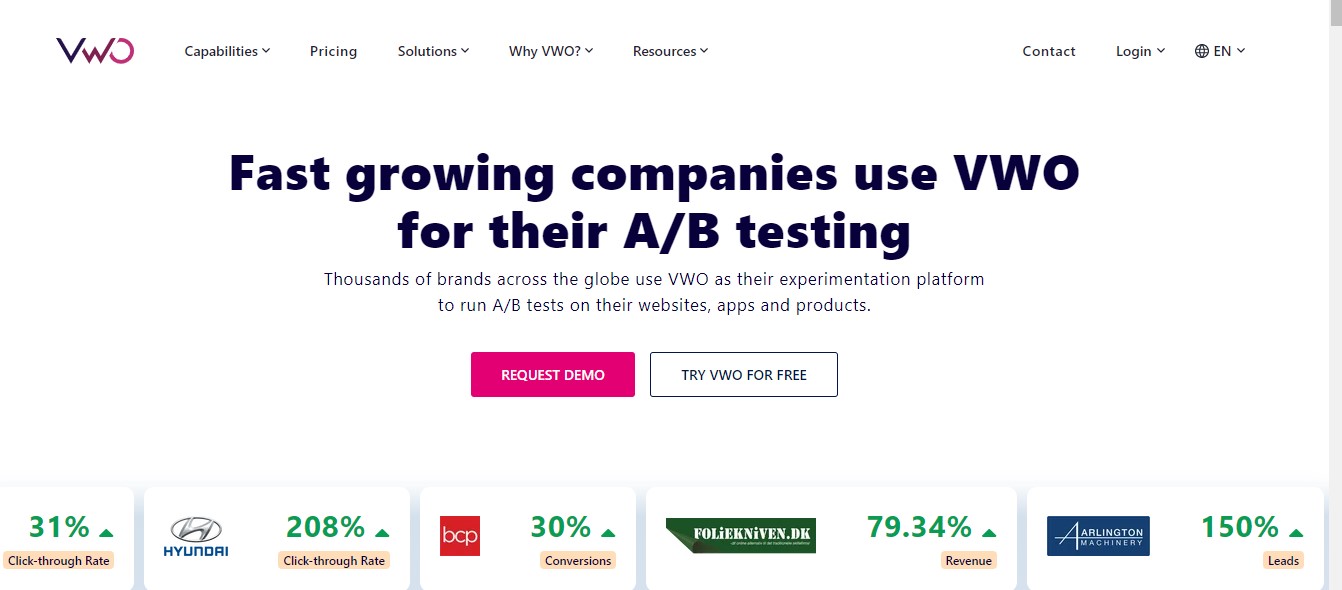 VWO allows you to prototype and tests your new ideas, typically based on your hypothesis. The A/B testing process starts with understanding visitor behavior on your mobile/web app, making observations, and creating a hypothesis for testing. It also provides features like heat maps, click maps, session recordings, a basic user survey, etc.
Features
You can get a complete view of multiple tests you conduct which helps you frame deeper insights.
A good collection of hypotheses that can be reused are available.
VWO's adaptability and customization options allow you to tailor your tests to unique scenarios.
Pricing
VWO plans come in Growth (price varies by the number of monthly visitors), Pro, and Enterprise levels, with customized pricing at each level.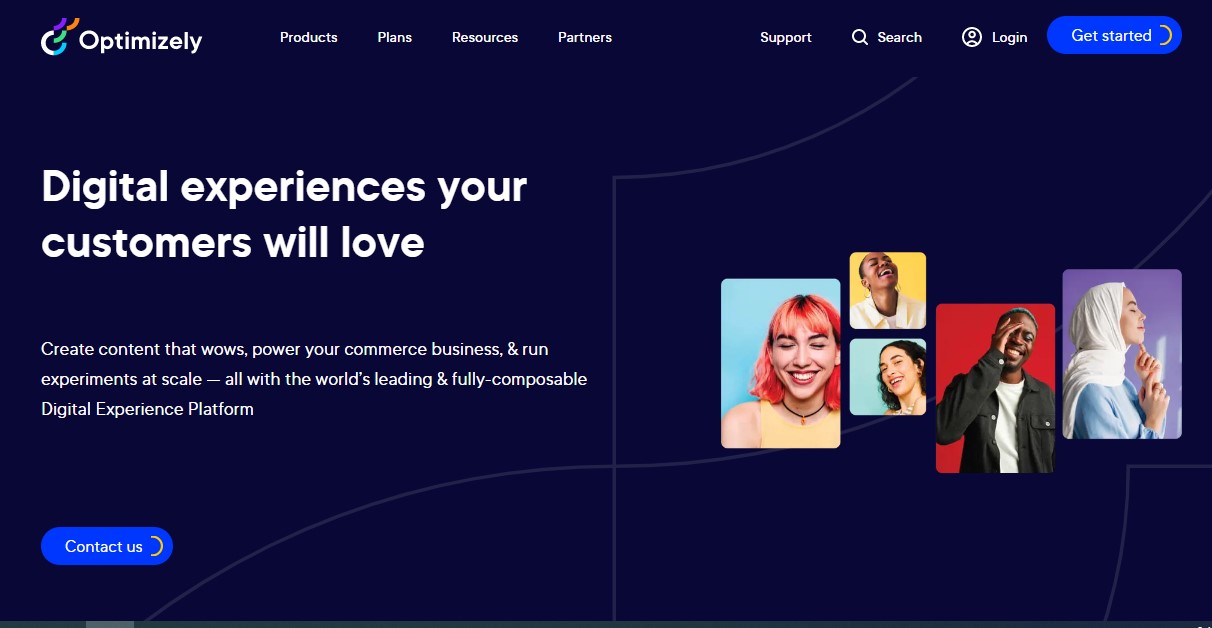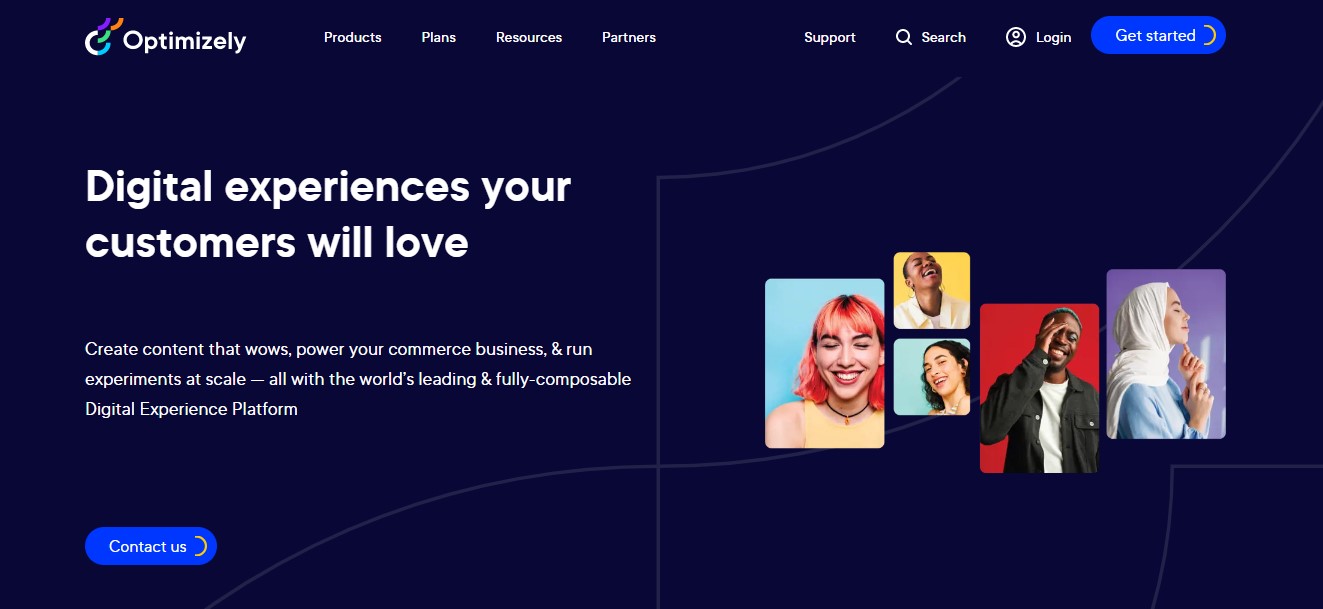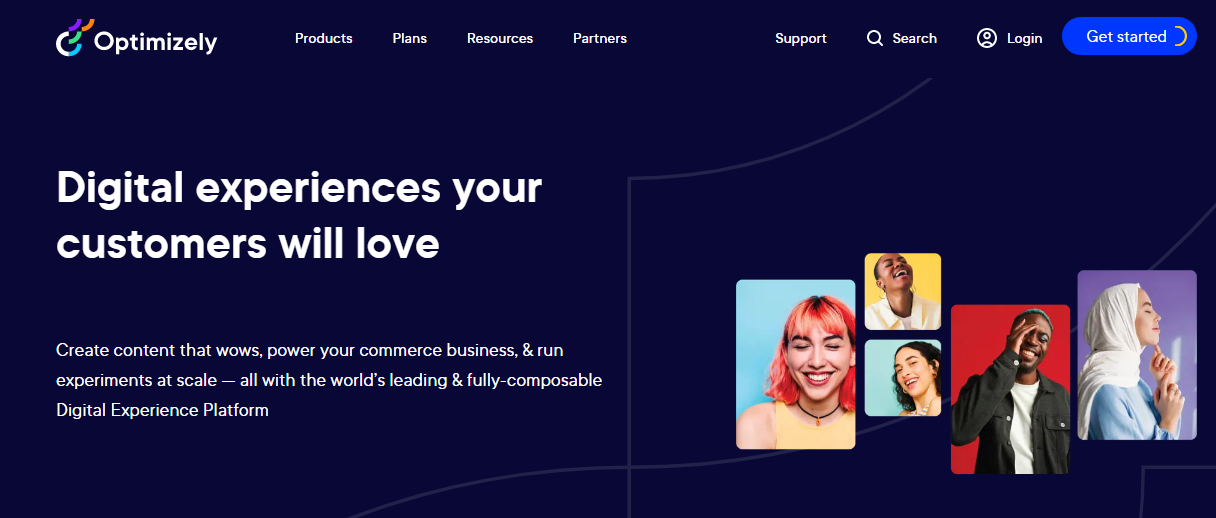 Optimizely is a usability testing platform that promotes experimentation and helps developers build and run A/B tests on websites.
In addition to experimentation, it accelerates release cycles and confidently drives conversion, adoption, engagement, and retention.
Features.
Optimizely Web Experimentation: It has a visual editor that doesn't require coding, so it's quick and easy to make and test different UIs to optimize and personalize a website's text, images, layout, forms, etc.
Optimizely Full Stack: This lets you add new features and experiment deep in your codebase for websites, mobile apps, business logic, and even voice bots.
It offers a robust enterprise-grade A/B testing and multi-page experimentation module.
Pricing
They have not provided pricing on their official website. However, those who wish to know about it can contact them directly with the requirement.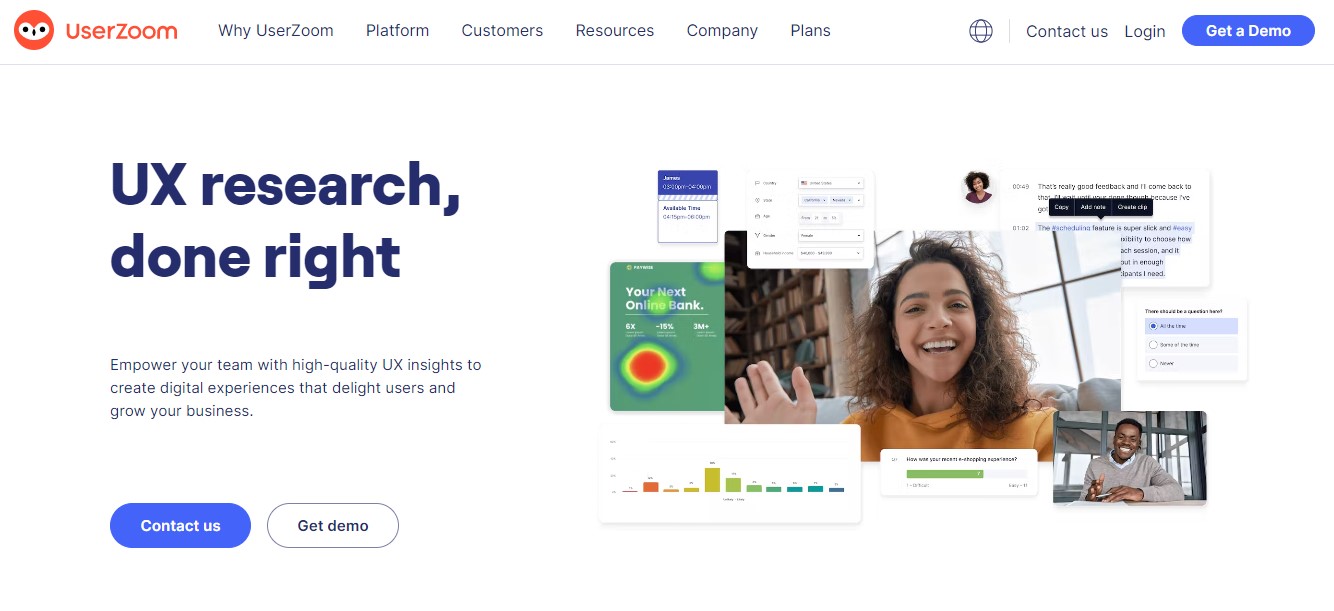 UserZoom is a usability testing tool that helps you understand what users think, track their behavior, and objectively measure user experience performance.
UserZoom is an excellent platform for user testing, combining the convenience of screen sharing with realistic context and varied testing types like click testing and screen recording. It remains relatively simple to add tasks for users, making it an effective tool for assessing pass/fail rates among test subjects.
Features:
Transcription
Usability testing
Built-in visualizations and analysis to aid the synthesis
Highlight reels
Qualitative data analysis
Recording feature
Tree testing software tool
User testing survey
Website usability testing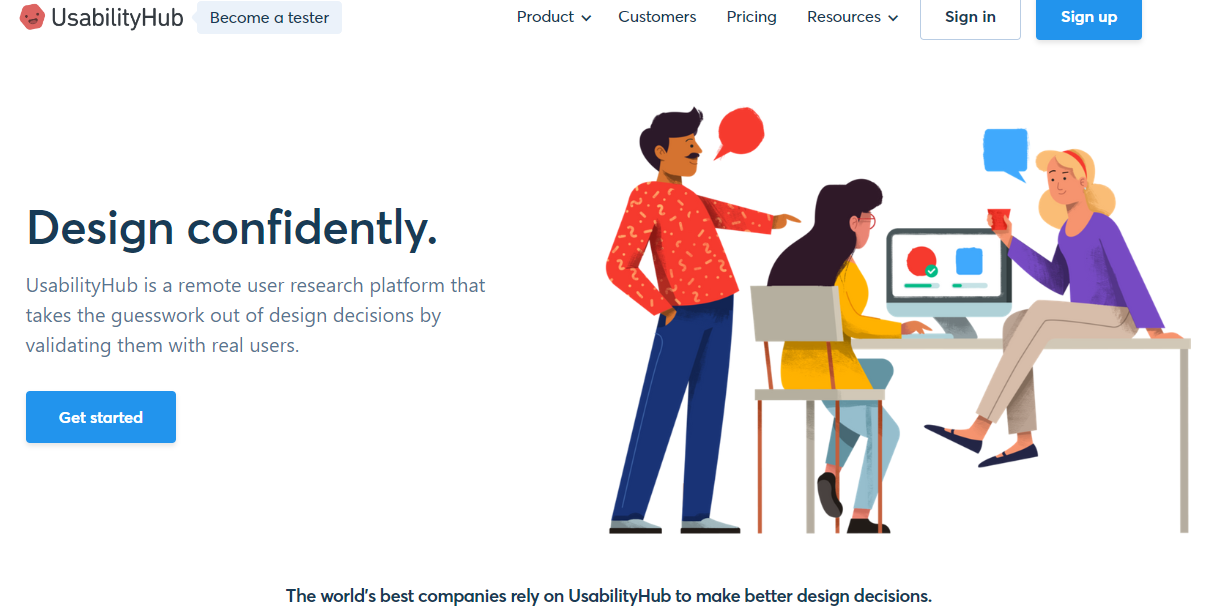 UsabilityHub is a user research platform that lets you test your designs and product ideas with real people. You can use test interfaces, interaction flows, iconography, and other tools to help make user experiences easy to understand and enjoyable.
The usability tests include first-click testing, navigation, design surveys, and preference testing. It's great for new users because it suggests the right questions to ask to simplify navigation between pages.
Features
You receive quick responses after the tests.
This tool is straightforward to use with its clear and intuitive interface.
UsabilityHub offers suggestions for questions to ask the users, which is very helpful for a first-time user.
Navigation to different pages/series of pages is made easy.
Pricing
UsabilityHub provides Free, Basic, Pro, and Enterprise level services and bills accordingly.
Free – You may conduct basic tests up to two minutes long & occasional research.
Basic – This is for solo researchers & basic tests. This will cost you USD 79, which will be billed monthly.
Pro – Convenient for teams & systematic research. USD 199 is charged monthly for this service.
Enterprise – Fits enterprise companies and bigger teams. Bespoke pricing system.
The services are priced individually for each user according to the product or service provided.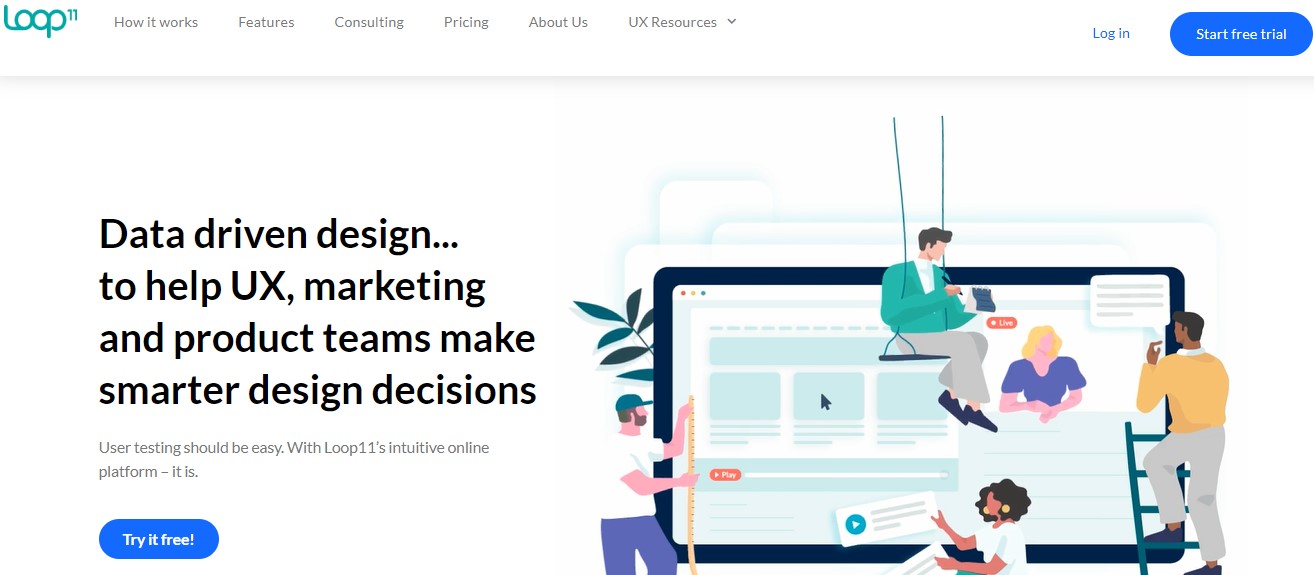 Loop11 is a user-testing application that lets you run your usability studies (moderated or unmoderated). It can do a 5-second test, the first-click test, and other standard tasks you want to test.
Loop11 provides critical UX metrics like availability, responsiveness, and usability, which are checked with advanced data representation so you can quickly gather and interpret valuable user insights. Some of their features/metrics include:
Task completion rate
Heatmaps
Clickstream analysis
Lostness
Time on task
However, once published, you won't be able to edit the test without deleting it entirely.
Pricing: Loop 11 has three easy packages: Get rapid insights for just $63 per month, billed annually.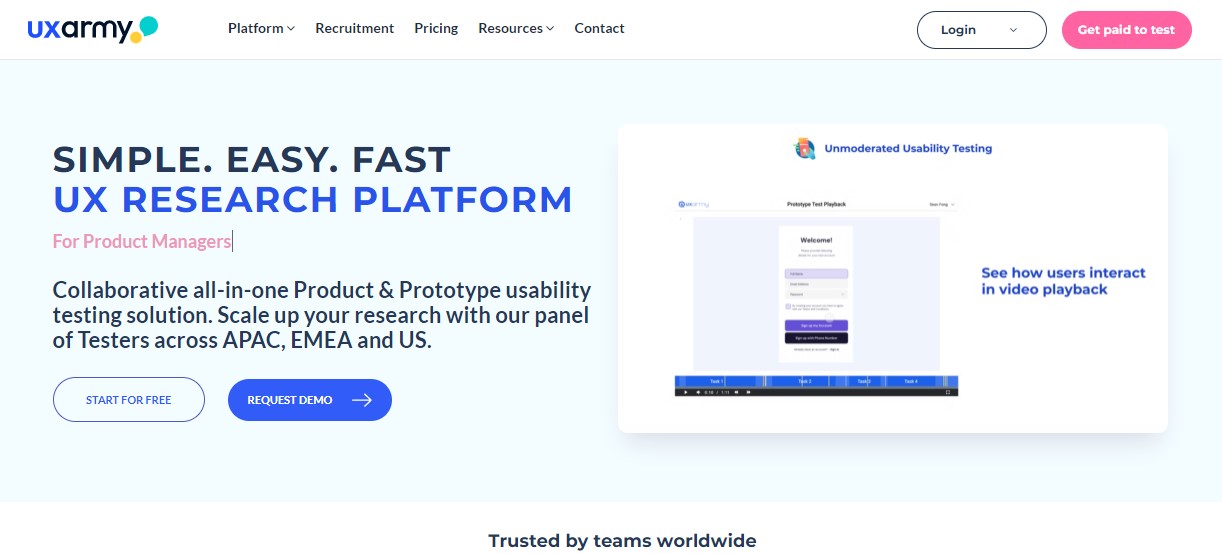 Validately simplifies usability testing and takes the stress off the organizers. With a few clicks, users can set up their study criteria, take care of recruiting participants, and manage tests without hassle!
The platform offers tailored experiences to those who desire a more hands-on approach to get the most out of their research project.
Features
Recruitment of test participants can be automated using this platform.
Information architecture and navigation of your product can be mapped out.
Helps in conducting moderated and non-moderated tests.
Provisions to perform card slotting and tree testing
Pricing
Unmoderated Usability Testing – $59/mo
Moderated Research – $99/mo
Card Sorting – $79/mo
Tree Testing – $99/mo
Participatory Design – $79/mo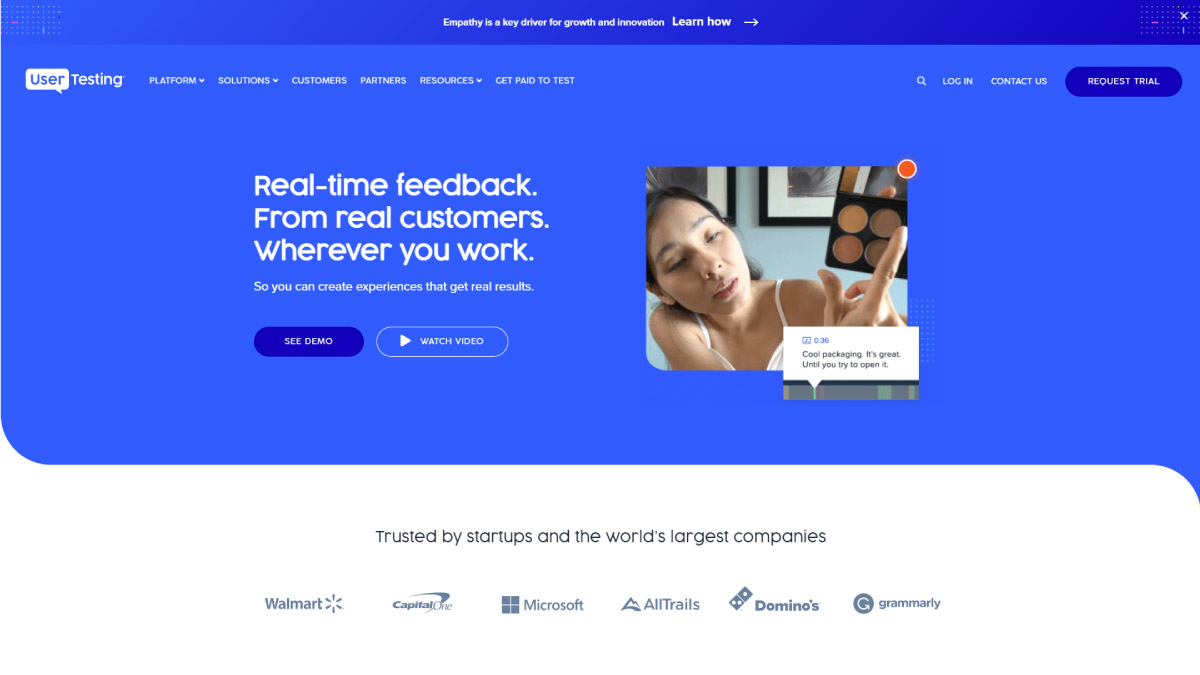 This usability testing tool enables you to receive user feedback remotely from actual users. You can see or hear customers' feedback while they use the product. This points out the problems they face with the product, thus making it easy for you to rectify.
When are they used?
The tests you conduct in this case can be helpful for UX research teams, product managers, marketers, and designers to identify pain points in your user experience and improve your product accordingly.
Features
It allows you to choose target users and get prompt feedback carefully.
It lets you see your app's users rather than in a test environment.
Test video recording happens automatically, and these can be easily added to your presentations.
Viewing the tasks for each session separately makes it easy to analyze the results.
UserTesting provides excellent customer service.
Pricing
UserTesting prices their service at individual and enterprise levels. They provide customized plans according to requirements. For the enterprise level, they provide free trial runs too.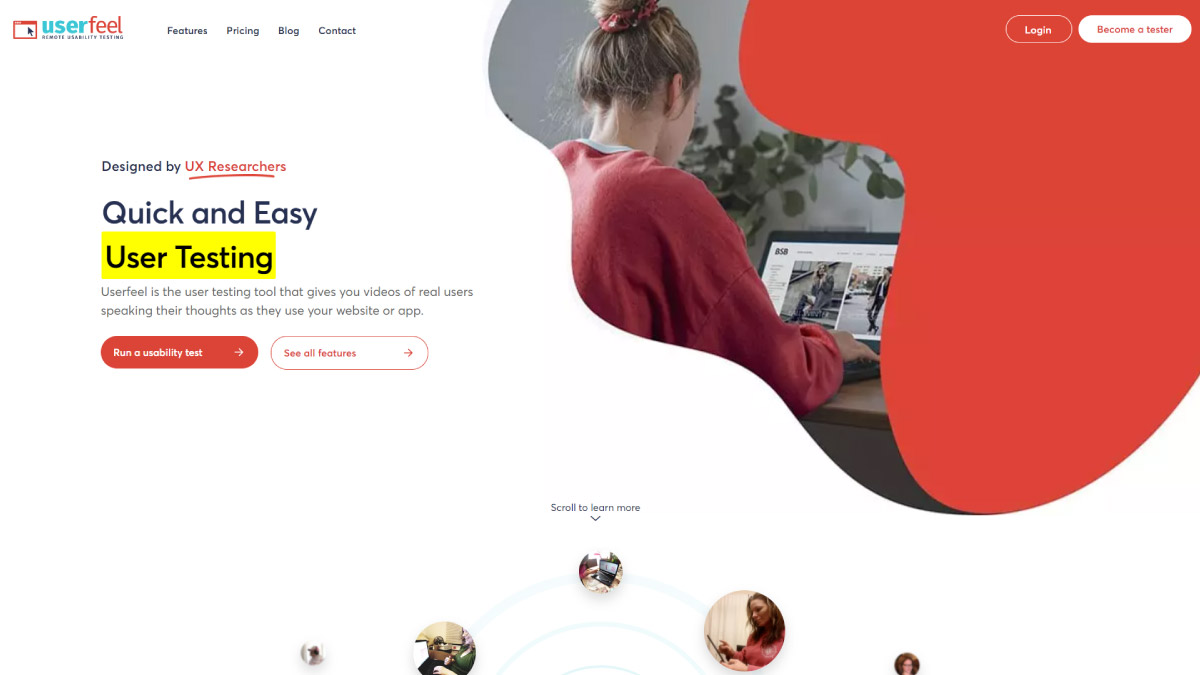 A multilingual usability and user testing tool that provides remote unmoderated and moderated user testing in 40 languages. Userfeel enables you to conduct tests on anything on any device. It gives you videos of real users speaking their thoughts as they use your website or app.
Features
Userfeel, in contrast to many competing user testing tools, does not require a costly monthly membership.
They have over 150,000 testers on their panel who can communicate in 40 languages.
You will get to perform moderated and unmoderated testing.
You get to choose the amount of testing that needs to be done despite the platform and devices.
Enhance your video of the testsession by annotating it with your thoughts and observations.
You can see how your site's System Usability Scale (SUS) rating has changed over time.
Pricing
Price per credit – $59
1 x 60-minute unmoderated session using your users -1 Credit
1 x 20-minute unmoderated session using Userfeel users -1 Credit
1 x 40-minute unmoderated session using Userfeel users -2 Credits
1 x 60-minute unmoderated session using Userfeel users -3 Credits
1 x 60-minute moderated session using Userfeel users -3 Credits
3 x 5-minute unmoderated sessions using Userfeel users -1 Credit
There are no annual contracts or monthly fees
Useberry is one of the best remote usability testing platforms that can aid in testing methodologies such as single task, open analytics, first click, 5-second test, online surveys, card slotting, preference test, tree testing, etc.
Features
It helps in testing your user ideas.
The tool easily integrates with design tools to facilitate early testing.
Facilitates prompt responses from users, insightful analysis, and customer-focused choices.
You get to find and select an audience from 34 countries.
The interaction of users can be recorded to understand user behavior
Have a visual record of how often your prototype was clicked
Helps in designing user flows.
Pricing
The pricing model of useberry starts with freemium, followed by a basic, pro, and team version, which cost $33, $67, and $84, respectively.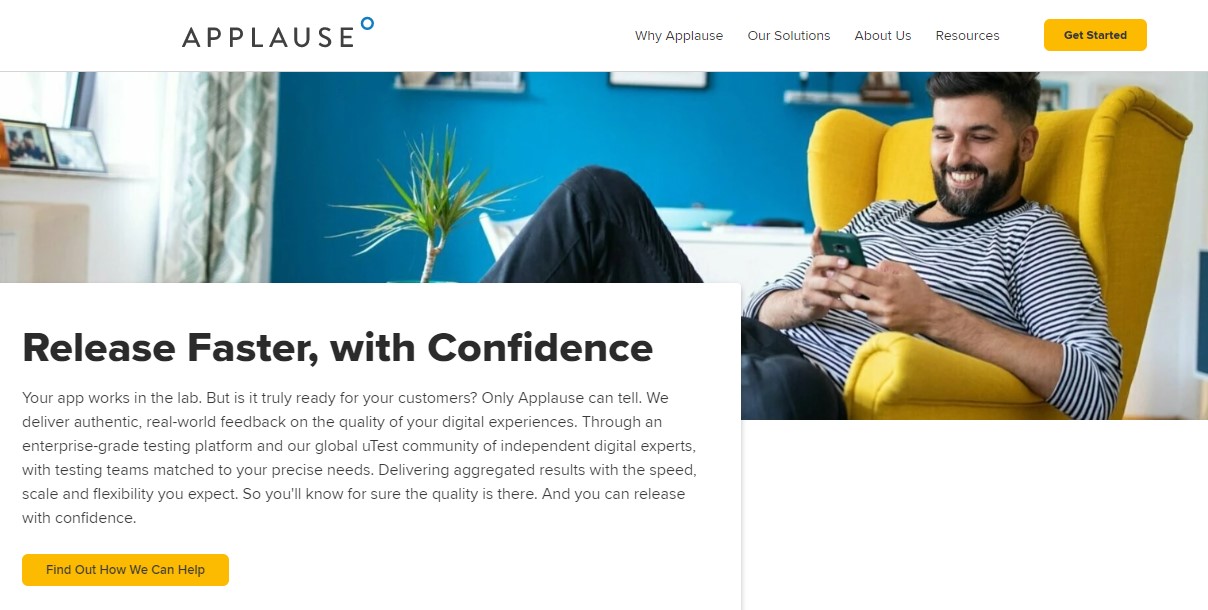 This usability testing tool gives you access to the world's largest community of digital experts. It combines world-class software products, an enterprise-grade SaaS testing infrastructure, and a wide range of digital testing solutions. This gives you a unified approach to digital quality.
It sets a platform for rare tests like voice testing, payment testing, security testing, and roaming testing. This tool is more beneficial to a full-service product development company.
Applause's services are expensive but worth considering if bug detection accuracy matters greatly.
Features
Based on your input target audience can be selected from around the globe.
You can get useful feedback from people all around the world and across platforms by conducting tests on a variety of devices.
Get a helpful report with findings, a summary of those results, benchmarking data, and professional advice on enhancing the user experience.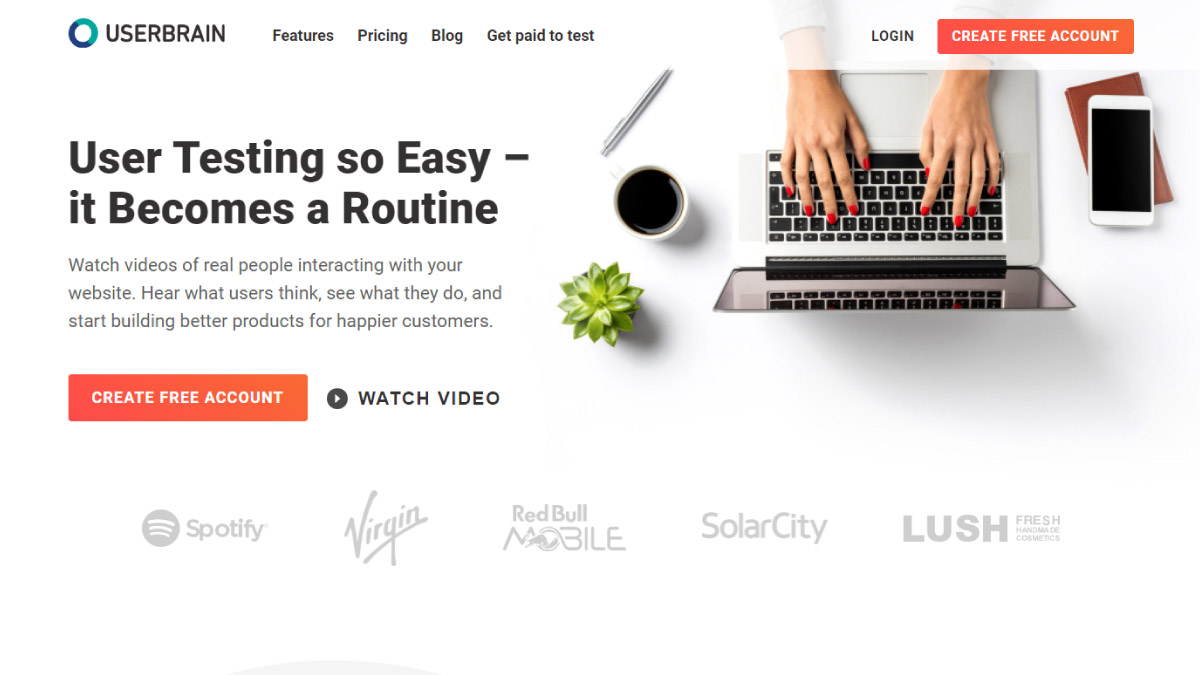 USERBRAIN is a remote usability testing tool that focuses on continuous testing and capturing insights from unbiased real people from different parts of the world. A/B testing, moderated usability testing, and survey/ poll management are a few of the features available
You can order and watch videos of real people interacting with your product. USERBRAIN offers no-code installation, and the setup is done in minutes. You can analyze user engagements and modify your product to improve usability. USERBRAIN suits the best eCommerce websites, SaaS companies, and startups.
Features
USERBRAIN's pricing structure is commendable. It's affordable for companies who are testing in small volumes.
This user-testing software is straightforward to learn and use.
You receive rapid responses from the tests they conduct.
Quickly and easily get footage of actual customers using your product.
A quick and easy-to-use tool that can help you build a user test in a matter of minutes and get the results in a matter of hours.
Pricing
USERBRAIN provides its users with three options when it comes to pricing
The first one is pro which costs around $300/mo. The second one is named as an agency that will cost you around $800/mo, and the last one is an enterprise package.
Also, you get to use their pay-to-go option at $39/tester.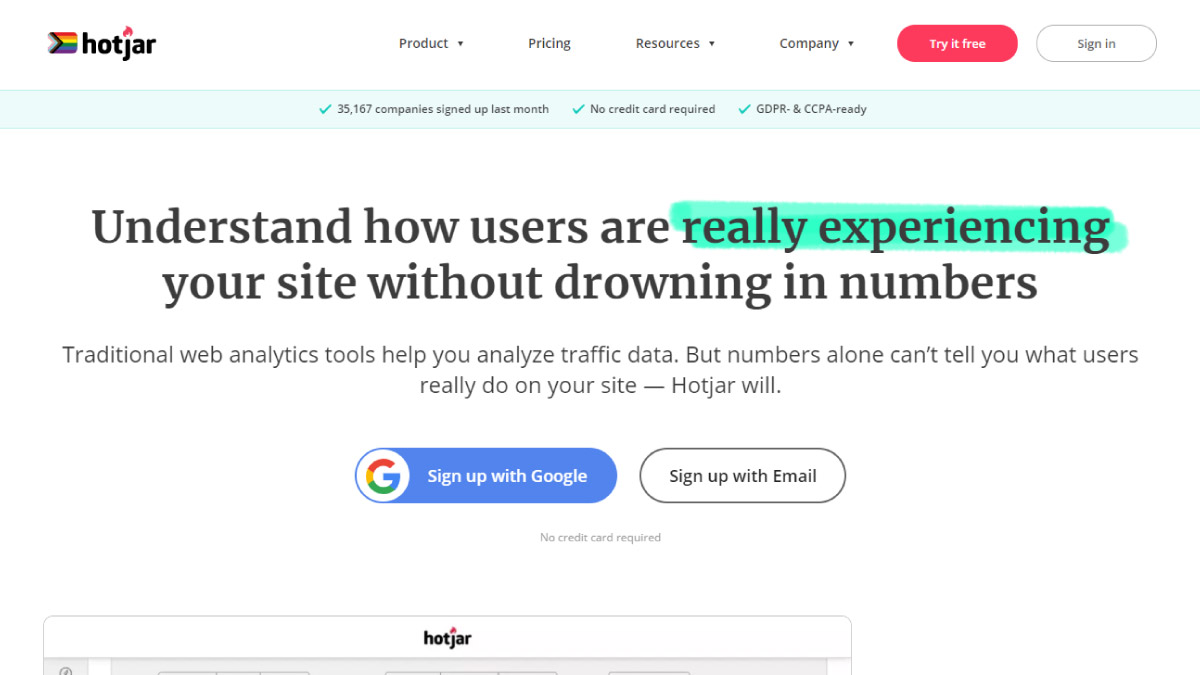 Hotjar is a behavior analytics and user feedback service mostly built for marketers, product managers, and UX designers.
Hotjar collects user feedback through heatmaps, session recordings, and surveys. It is an easy-to-buy-and-use service that combines user behavior analysis and website feedback tools to help you understand what's happening on your site, what your users care about, what they have to say, and the context in which these people behave the way they do.
Heatmaps, recordings to see what users see, instant visual feedback, and surveys to understand the context behind the user behavior.
Feat
It is straightforward to add tags with a user-friendly interface and provides quick customer insights.
The software is frequently updated, thus providing the users with the best version.
It can be installed quickly and easily via Google Tag Manager.
Heat map tracking for website clicks and scrolls by users
Recorded live user sessions that helped to improve UX
Pricing
You can directly contact them with your requirement, and the price will be quoted based on them.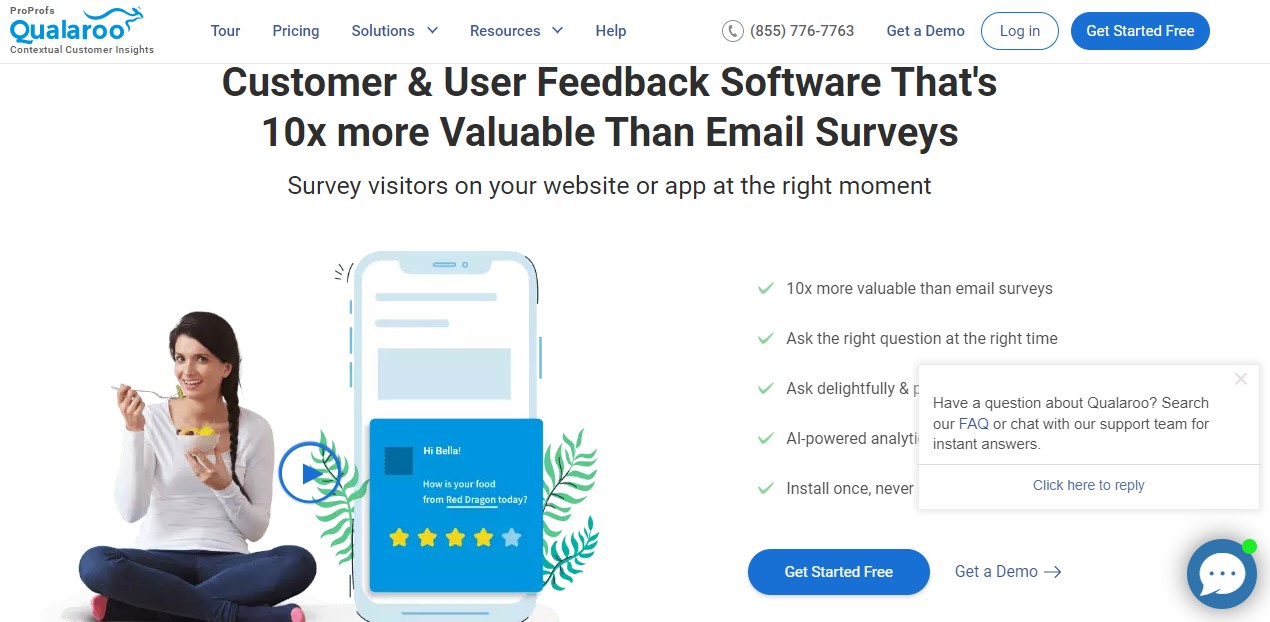 Qualaroo is usability testing software that helps companies gather customer insights and understand the reasons behind their decisions. The users are surveyed while they use a product or a service.
Qualaroo takes the hassle out of gathering feedback. Its simple setup and customizable surveys make it easy to answer your questions quickly. Their different survey types cover all bases, from embedding websites to link URLs, and their helpful customer service is always ready to answer any questions that come up along the way.
Pricing: Qualaroo offers three plans for their customers, and you may try any plan for free for 15 days.
Features
Helpful in doing post-visit surveys and learning about the factors preventing visitors from becoming paying customers.
Invaluable for gathering feedback from users quickly and efficiently throughout the design process.
AI-Powered Analytics & Reports
Pricing
Qualroo offers 3 types of pricing modules. The first one is called essentials, which costs $80; the second is premium, with a cost of $160; and the third is named enterprise.
#18 TryMyUI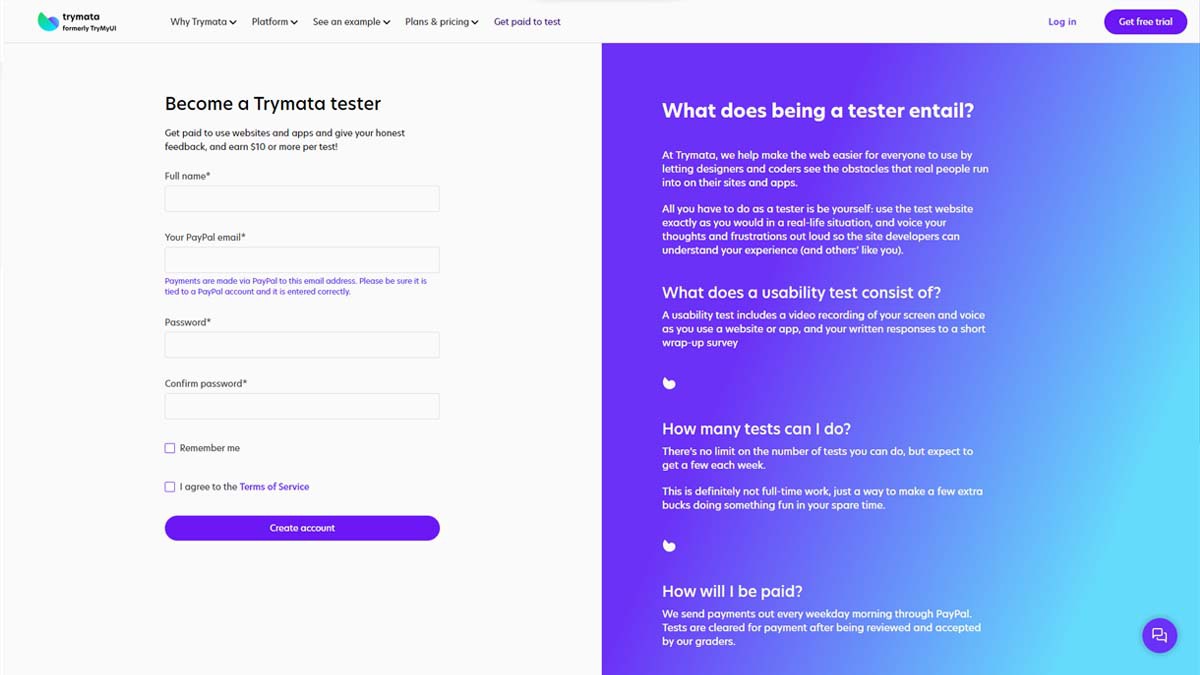 With TryMyUI's powerful usability testing tool, you can quickly get a better understanding of how your website or product works based on user feedback. From prototype testing and surveys to analytics, the features allow for more accurate results that can be further analyzed in Collaborative Analysis Mode, which supports annotating videos, highlighting reels, and generating an executive summary from your results.
Features
Easy to set up and use
Run tests on desktops, Android, and iOS devices.
First impression testing
Demographic and target user filtering
In-built task metrics, general usability ratings, and survey answers from the community may all be used to gauge success.
Pricing
Prices range from $333 per month for a limited plan to $3,333 per month (on contract) for an unlimited plan.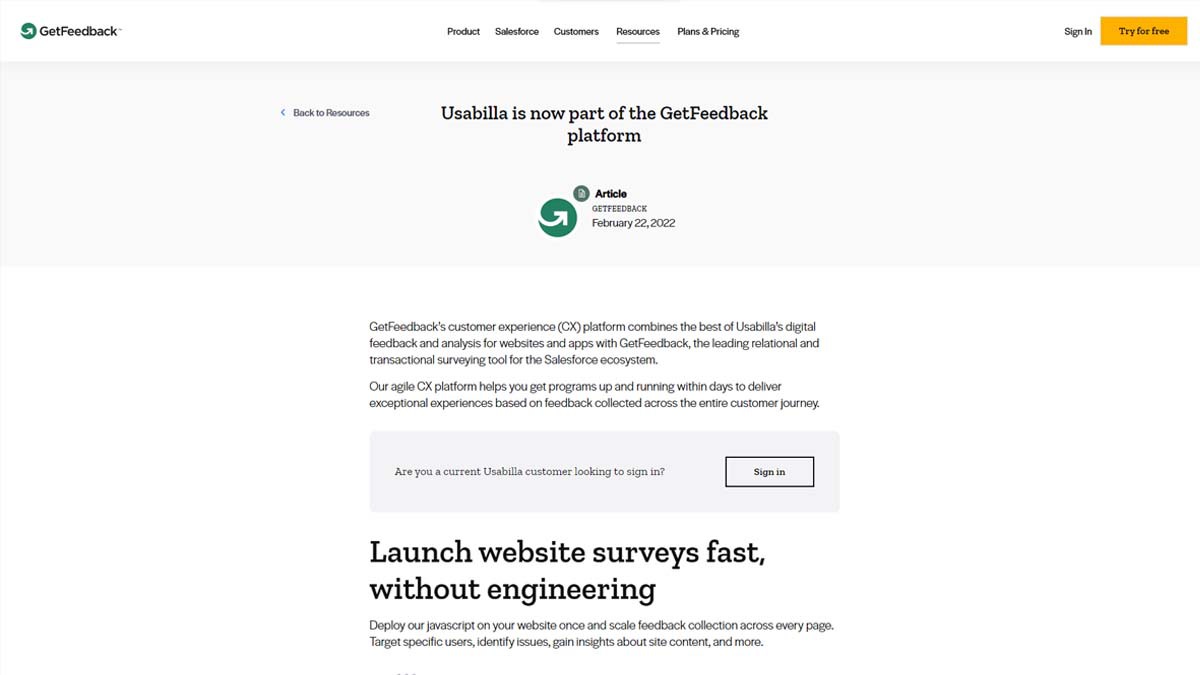 Usabilla stands apart from other user testing tools due to its focused scope. It is designed for live products such as apps, websites, and email campaigns that have already been released in the market.
With Usabilla, designers and marketers can keep making changes to their product even after it has been released. This unique solution is made possible by creative surveys, feedback buttons, and customizable pop-ups that perfectly fit any website style!
Features
Implement our Javascript on your site once, and input will be collected at scale across all pages.
You may narrow in on specific users, spot problems, and receive insights on the site's content, among other things.
Feedback from customers in real time can be used to pinpoint potential issue areas.
Pricing
Usabilla has 3 plans, essentials, pro, and ultimate. However, pricing is not available on their website. Those who wish to get a quote must contact them with the requirement.
Benefits of Usability tests
Usability testing provides valuable insights into how usable and enjoyable a product or service is for its users.
It helps to identify user needs, behaviors, preferences, and motivations to design better products or services that are truly useful and accessible.
Observing users as they interact with a product allows usability testing to uncover issues that may not have been discovered through other types of research.
Usability tests can help create solutions faster by providing feedback on the effectiveness of prototype designs early in the development process.
With accurate data from usability testing, developers can understand what works best for their users and be more confident about making changes for improvement.
Moreover, usability testing can also help reveal new features that users may find beneficial or exciting, which might have otherwise gone unnoticed.
Conclusion
Understanding your requirement is very important in picking a usability testing tool.  And, yes, of course, knowing the different kinds of usability testing tools and their pros and cons, you can pick the best one for your needs and ensure your website or product is easy to use. 
FAQ's
What is usability testing in UX research?
Usability testing measures how well a product or service works by talking to people who use it in real-time. Often, it is also used or conducted to gather data on users. But what happens during a typical usability test?
During typical usability testing sessions, the evaluators run a test to examine if the users can accomplish the target or complete tasks with the test product. They will be observed and recorded in real time by observers or people conducting the test. The data are collected through both quantitative and qualitative processes and analyzed.
What is a usability testing tool?
Usability testing tools are essential for evaluating the user experience of any online product. With these tools, designers can evaluate how effectively users can navigate a given product and monitor their success rate in completing specific tasks. Usability testing tools also allow for collecting data about user behavior, such as how long it takes them to complete a task, how often they make mistakes, and what kinds of errors they make.
In addition, these tools can capture qualitative feedback from users and provide insight into their preferences. This data can then be used to refine the design and improve the overall usability of an interface or website. Overall, usability testing tools help ensure that designs meet their desired objectives and deliver an exceptional user experience.
What should you look for in a usability testing tool?
When selecting a usability testing tool, you should look for one that supports your research objectives. The tool should be capable of collecting user feedback in the form of surveys, interviews, and other testing methods.
It should also provide features like automated reporting, task analysis, and participant tracking to help you better understand user behavior. Additionally, it's essential to find a tool with extensive customization capabilities so that you can tailor the tests to fit your exact needs. Some tools offer advanced analytics to gain deeper insights into user behaviors and reactions.
To ensure that all this information is appropriately collected and managed, ensure the tool includes reliable data collection and storage solutions. Lastly, when choosing a usability testing tool, it's vital to ensure that it fits within your budget while still providing the features and flexibility required for effective testing.
What are some methods used for usability testing?
Usability testing methods include:
Quantitative vs. Qualitative
Moderated vs. Unmoderated
Remote vs. In-person