Since 2018, WowMakers has thrown new light into the field of designing with UX design, one of the most important and sought-after services in the Indian design industry. Our work showed everyone that UX design was no longer a luxury, but a necessity to remain competitive in the modern day.
Now our team is being recognized as amongst the top performing agencies by one of the most prestigious independent award-giving bodies in the B2B industry – Clutch.
Clutch is a B2B review and rating platform that uses a unique verification system that allows them to ensure that all of their content comes from legitimate sources. They then leverage that content to determine the best-performing companies in every industry around the world.
The fact that they use verified reviews as their basis for measuring success is the purest criteria we can think of for such a diverse field of businesses. We believe that the only people that can truly judge a company are the people that they served or worked with directly, and Clutch has given them the voice to make that determination.
Our clients have recognized us for our top-notch qualities which we hold on tight to. We are armed with the best creative professionals who work together to give the best.
UX design approach we use at WowMakers
A well-designed UI/UX plays a great role in creating a product alongside building customers' confidence in your brand. This helps in building customer satisfaction and trust. And thereby meeting your business goals.
A systematic approach is needed to develop a good project. Thus we make sure to stick to the 5 phase approach that includes product definition, research, analysis, design and validation to get the best outcome.
We at WowMakers, always try to understand our customers and their needs in all kinds of projects. And our team keeps an open mind to client's ideas and views which helps us provide the desired outcomes before the deadlines.
We customize our approach according to our customer requirements. Usually we follow the double diamond approach which includes phases like understanding the problem, defining it, developing the project and finalizing the output which takes reasonable time. For customers who need the output in a lesser span of time, we use the quick design sprint methodology. Here only the approaches are different but the quality of the end product is never compromised.
Our customers have always appreciated us for our timely delivery of the projects and it's quality.
How WowMakers can be different when it comes to UI/UX design?
The design process is the final culmination of giving life to ideas that have been collected with utmost care. This includes vast research, a number of design iterations, integrating client ideas with user needs and goals etc.
WowMakers is adorned with a group of professionals who are well versed in their field and are always open to new learning. This up to date and dedicated team of ours always boosts the quality of the output by paying attention to the slightest details and are committed to materializing our client's vision.
We believe good customer relationships are key to bringing out the best result. Thus we never compromise on our communication with them at all levels of project development and are very prompt in our responses so that our customers are never left with any uncertainties. Customers call us pro active and efficient for a reason.
We thank our clients for the trust they have in us.
There is no better motivation than appreciation. And we have been blessed with the best customers who never failed to shower us with testimonials and remarks for our dedication and quality we provide them with. These reviews helped us land upon this recognition by Clutch. We are extremely thankful to our customers who took out time from their busy schedules to write a review and share their experience with us.
These are the few of the feedbacks posted by our clients.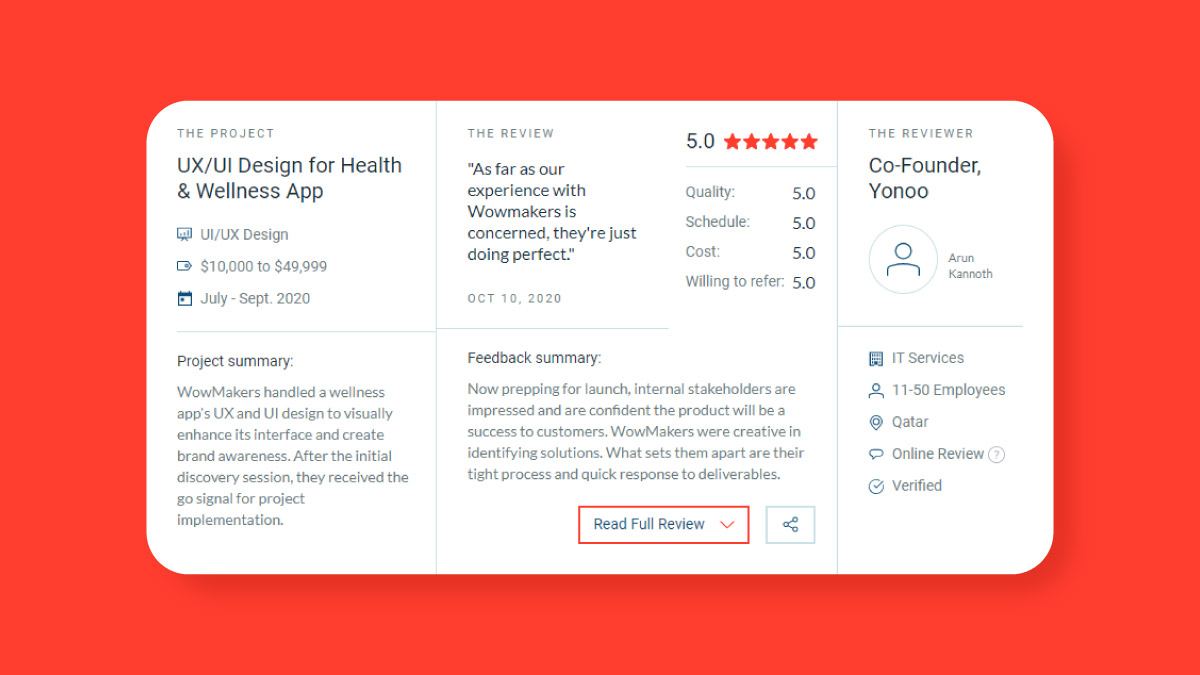 Click here to read the full review
Without this input, our award would literally not be possible.

If you want to experience what award-winning UX design feels like, don't wait for another minute. Give us a call today. We built a business out of pushing companies to the next level and now it's your turn. Bloom with us.