If you are reading this, then you probably figured out the massive potential of having a content marketing campaign.
Paid advertising was a widely accepted internet marketing strategy initially. But today, more than 200 million people have installed ad-blocking software which goes to show how frustrated users are with advertisements.
This is why today, 88% of B2B marketers use content marketing in their marketing strategies.
If you haven't already heard, videos are the new kings of content marketing. By 2022, video will account for 82% of all consumer internet traffic, according to Cisco.
By 2020, video will account for 79% of all consumer internet traffic, according to Cisco.
So now comes the tricky part. Knocking on your boss's door and pitching in your idea. We get it, it can get quite overwhelming.
Your reputation is on the line here.
The last thing you want is to be laughed out of his office with your tail between your legs.
But if you do it right and convince your company to implement video, you will see real quantifiable results. And when the boss takes notice, he's not going to forget the rockstar employee that made it all happen.
Pumped up yet? Well, you shouldn't be, not yet anyway.
You can't just stroll in and tell your boss to take action simply because you 'think' or 'feel' that videos are a good idea. Neither is he going to be impressed by a few stats you pulled from Google.
And you can't just drop an anonymous letter on his desk just to see how he would react to the idea.
You need a game plan. And that is what this blog post is all about. I'm going to share with you everything you need to know about how to convince your boss to invest in videos.
Before we dive into all the cool information, let's take a look at a few things you need to check.
Time To Do Your Homework Before The Pitch
Remember that this post is just a guide, if you plan to say everything that's written over here just as it is, DONT. You need to first gauge the situation.
Is your boss in a particularly bad mood? – Stand down!
Do you have a lot of pending work?- Finish up. You don't want your boss thinking you've been wasting your time on videos instead of doing your job.
Is your boss impatient or is he a stickler for the details?
There are a million things that you could say to your boss about how great videos are. But your boss doesn't have the time and patience to hear them all.
As far as your boss is concerned he absolutely needs to hear the following:
So let's get cracking.
Your Boss Needs To Hear The ROI
You can talk all you want about how great videos are, but the first thing your boss is going to be thinking about is, how is this going to benefit me.
96% of B2B organisations now use video in some capacity in their marketing campaigns of which 73% report positive results in ROI.

While these facts may seem pretty impressive to your boss, he is now going to be thinking about how you would measure the ROI of a video marketing campaign, if you were to implement one.
Please do not make the mistake of saying 'I have a feeling that videos will do well for us'.
Here is exactly how you could measure ROI.
ROI can be proven in 3 ways:
Lead Generation.
Revenue.
Engagement.
#1) Lead generation
Videos are an awesome tool for lead generation. They capture the attention of new customers, create interest in your products and services, and persuade potential clients to share information with you.
If your boss doesn't believe that videos are not going to generate any serious leads ( Probably thinking viral videos are just for cat lovers), hit him with this.
According to Forbes: Over 75% of Fortune 500 executives watch online videos and 65% of senior executives have visited a vendor's website after watching a video.
Over 75% of Fortune 500 executives watch online videos and 65% of senior executives have visited a vendor's website after watching a video.
How to track:
Email Subscribers: Tools like Wistia Turnstile enable you to capture emails within videos. You can track the exact number of emails captured or leads generated from that specific video.
Tracking URLs: By adding tags (UTM parameters) to links shared alongside your video, you can see exactly where your website traffic is coming from in Google Analytics. Find out how to create a tracking URL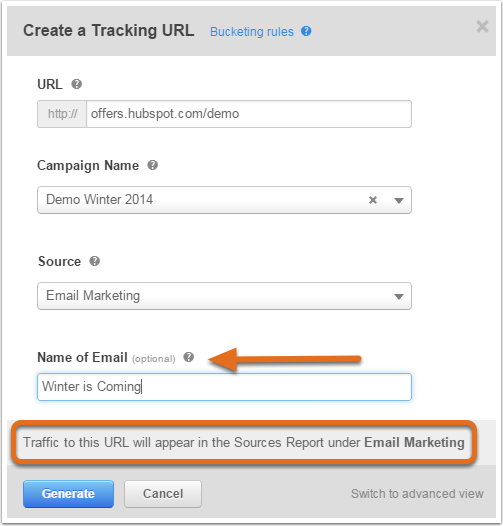 #2) Revenue
The metric that your boss is going to love. Videos have the power to convert potential leads into customers.
According to a survey by tubular insights, 73% of those surveyed confirm they are more likely to buy a product or sign up for a service if they watch a branded video that explains the product.
The B2B financial services brand, Taulia, has influenced more than $125M in marketing pipeline based on lead interactions with video content.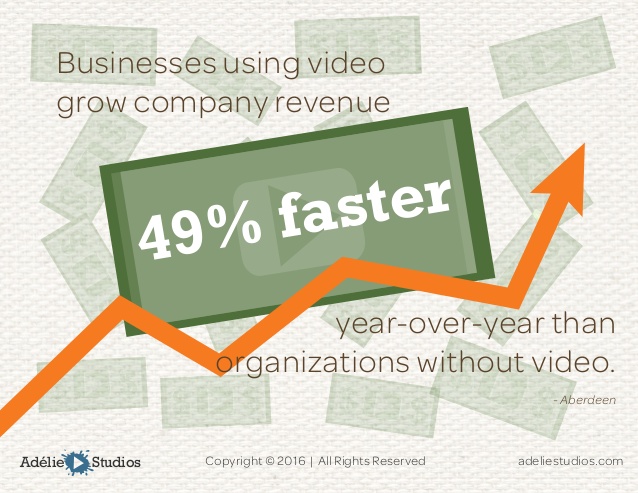 Unfortunately, it's difficult to measure this as it is not possible to determine if a customer made a purchase decision solely because of watching the video. Still, you can draw a couple of important insights.
How to measure:
A/B testing: Compare the revenue generated before and after adding a video to your product and services page for the same time periods. Find out more about A/B testing your videos.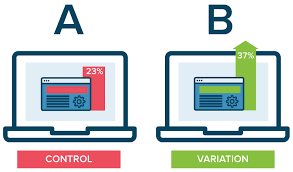 Tracking Links: Include a tracking link, along with CTAs where your videos are hosted, to track customers that watched a video before making a purchase. So now you know how much revenue was generated after customers watched videos.
#3) Engagement
Videos marketing isn't always about the money. They are also a very powerful tool to engage with your customers.
Blendtec started off as a humble blender retailer who was barely on the map. They started to make videos of blending everyday items that you wouldn't normally use in a blender (iPhone smoothie) and decided to launch a campaign called 'Will it Blend?'.
186 videos later, Blendtec's retail sales are up a reported 700 percent, its YouTube Channel has 900,000+ subscribers and over 281,056,809 total views.
Just take a second to process how this blender company reached out to millions of customers just by posting simple videos. That's the power of virality, social media and most importantly videos.
So how do you monitor how viewers have engaged with your video?
By finding answers to these questions:
How many people viewed my video
How many people liked or shared the video
How long did viewers watch the video
All of these questions can be answered using tools like Facebook Analytics, Youtube Analytics and twitter analytics depending on what social media platform you are using.
You can also use 3rd party tools like SproutSocial to track the engagement of videos across multiple social media platform.
So now when your boss asks you if you can measure the success of your video campaign, you have enough to say to impress the hell out of him.
Next Question: "So How Much?"
The next question that will inevitably arise is how much this is going to cost you. If you don't have a clear answer to this your idea is as good as dead.
So how much are videos going to cost us? Your boss asks.
Start by answering what videos are not going to cost you.
Internet Videos can be uploaded and shared for FREE.
Think about it. If you want to send your message across any other channel like television, radio or magazines:
You have to pay to get it out there.
You have to pay for however long you want your message out there.
Your advertising campaign will die when you pull the plug on the payment; never to be used again.
Contrast that to Internet Videos.
Free to upload.
Free forever.
Your video content will stay forever until the day the internet shuts down.
After you have your boss pumped up with this, hit him hard with the great news.
Internet videos are cheap! Well at least if that's what you want them to be.
Now if you are looking to hire a video production agency it's going to cost you anywhere between $5k to $30k on an average. But this depends on a lot on the type of video (animation or live action) and whether you will be using professional actors or employees of your own company.
Here's the good news. You can even do everything DIY in your own company. (But here's why you shouldn't go for DIY tools.)
Smartphones have become so smart these days, that it is possible to shoot the entire video and edit using just your smartphone.
While you may not get the quality that professional services provide, it's more than sufficient if you are focused on the content of the video rather than its production value
Here's what you can do to really sell it to the boss.
If you know a couple of camera geeks and a few aspiring actors within your organization try to put together a simple video, illustrating the information that you are reading this blog! It will really impress him to see how you took so much initiative.
Social media are all about videos today!
Videos are the new kings of content. The biggest proof of that is already there on your smartphone.
Bring your boss's attention to the changes in social media today.Facebook now serves a whopping 8 billion video views per day – that's double the amount the video content users were consuming in early 2015.
Facebook now serves a whopping 8 billion video views every day – that's double the amount users were consuming in early 2015.
The greatest asset of online video marketing is its shareability.
Videos are like fireworks. All you need to do is pack them with great quality content and use social media to light the fuse.
The coolest part about this is, you don't need to spend a penny! Your audience will share the video with you.
All of the social media platforms today are primed to showcase videos.
Facebook alone revamped their website to promote videos, and now it's reported that Facebook videos have a 10x higher viral reach than YouTube links.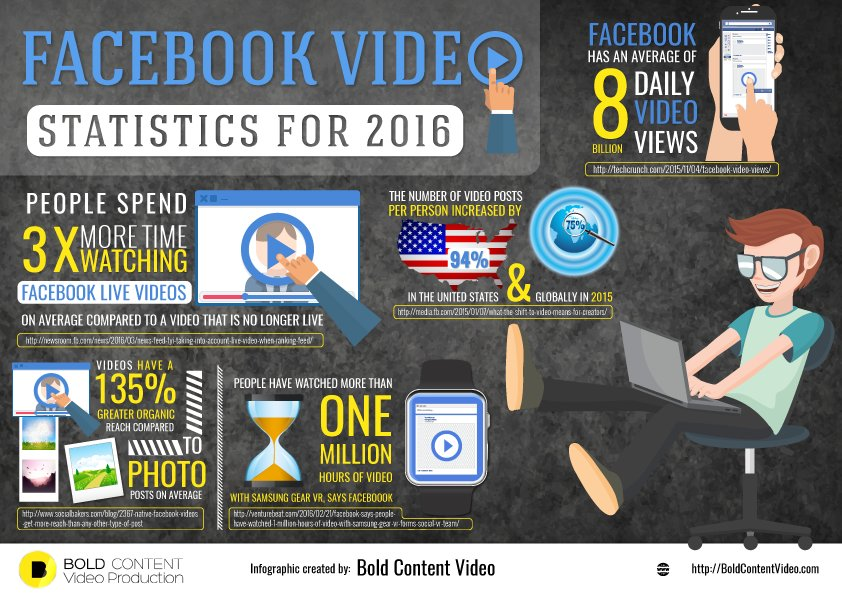 You might have noticed that videos autoplay without audio as you scroll down your news feeds. When the audio is muted, the video buffers at a much faster rate. Viewers can now have a sneak peek at the video and then make the decision whether to watch the rest of the video.
Instagram is also not far behind. Instagram users use the app for the sole reason of watching either photos or video and nothing else, unlike facebook which offers a lot of other things. The advantage here is that videos have much higher chances of being viewed on this platform. This makes it a great place to launch a video to promote your brand, product or service.
But it doesn't stop here. Twitter, Vine and Vimeo all have one thing to say- We want more videos!
Videos Bring In More Traffic, Boss
As a marketing professional, one of your goals will be to bring more traffic to your website.
To do this, you must rank in the top for your relevant keywords on Google and other search engines- at least on the first page of the search result.
In the earlier days, it was enough to do keyword optimization to satisfy the Google algorithm. This made sense because back then there wasn't a lot of content out there that would compete for the same keywords.
Note: Here's an exclusive Video Search Course List from Google.
But since 2013 the internet saw an explosion of content and it was important for a reputed search engine like Google to provide relevant and high-quality content for its users. This is why Google's search algorithm depends on a lot of other factors today
While nobody is exactly sure of all the factors that Google takes into consideration for ranking web pages- It is a well-known fact that high quality and relevant content is a sure fire way to rank better.
And boy does google have a hard on for videos. Yes, I said it.
It has been tested and proven that video is 50 times more likely to get organic page ranks in Google than plain text results.
Video is 50 times more likely to get organic page ranks in Google than plain text results.
Why do you ask? Here are 4 reasons why: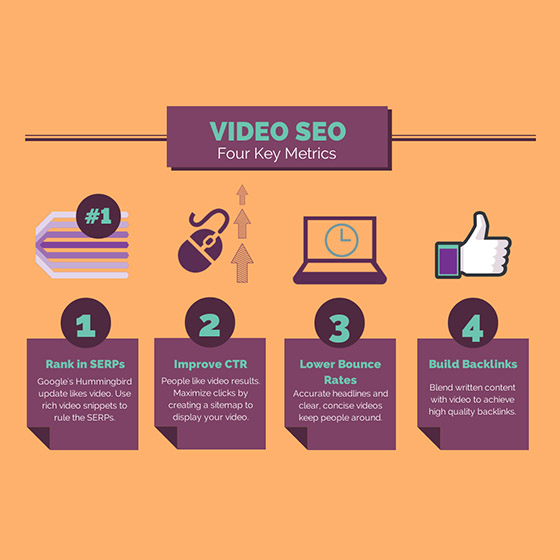 Because the competition for video content is so much less than that of pure text pages, it is easier to rank well with online video.
Check out our YouTube video SEO services.
Explain to your boss, that by putting a video on your website, you're actually making a concerted effort to improve SEO. (I'd skip the part about the hard on if I were you).
Over To You
So that's it! Make sure not to forget about what you should do before the pitch.
Believe in yourself, take a deep breath and step into the boss's office and impress the hell out of him.
And if later on, you do get that promotion, don't forget who helped you get there. We would love to hear back from you. Leave your comments below.
Good Luck!