Gone are the days when electric cars used to be glorified golf carts.
With the arrival of Tesla, Rivian, Polestar, Taycan, we are moving to an age of extremely powerful cars that not only accelerate like average gasoline guzzling supercar but also care for our planet by not emitting any harmful chemicals into the air we breathe.
However, this article will not take part in the age-old debate of how shifting to electric cars can make the world a better place.
Instead, we focus on the design and aesthetics of electric vehicles, as the brilliant minds from Tesla took a bold step in creating a pick-up truck that looks and works nothing like the world has seen before.
Unless you have been living under a rock, you must have come across the global buzz regarding Tesla's latest addition to its arsenal, the Cybertruck.
The launch was incredible and a bit messy (or clever?) at the same time, but Cybertruck proved to be a work of impeccable design coupled with utility.
If the infamous glass incident was thought to be a letdown, let this article guide you on some of the interesting design theories of Cybertruck which otherwise may have flown over your heads.
Cyber-Age Origins
It all started with a tweet on June 26th, 2018 when Elon Musk asked his Twitter followers a question,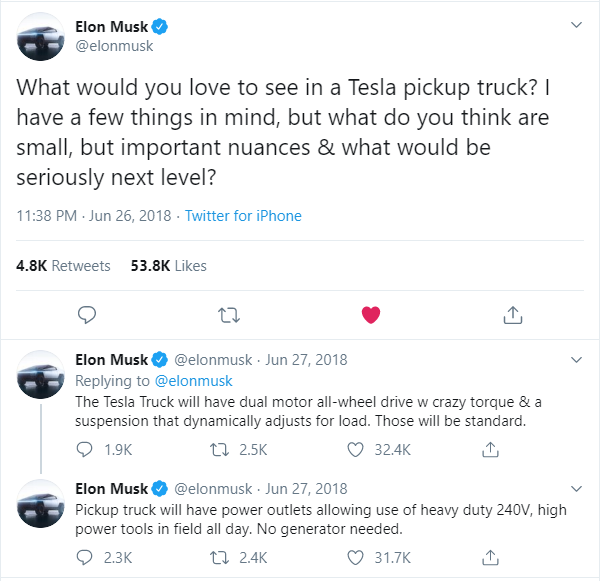 Twitterati responded with a bunch of ideas making it one of the most collaborative projects ever in ideas, only second to Netflix's recent sex/brand slogan tweet.
Why Trucks?
The pick-up truck scene hasn't changed since the last 100 years. One could argue that there is a dire need for fresh designs.
Given that Elon Musk is a pioneer in redefining things that he attempts, he wanted to do the same with the first-ever Tesla truck.
But Musk had a daunting challenge ahead of him.
In order to break into an $81 Billion pick-up truck market, it was evident that Musk had to break out and change how the conventional pick-up trucks were designed and perceived.
The truck simply had to stand out from the crowd.
The radical thinking got so good that Tesla decided to embrace it right from the logo.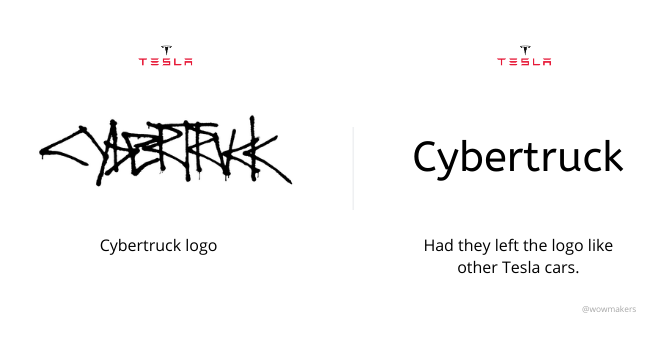 Deciphering the Cybertruck Design
Any design has its fans and critics. In this case, the design is quite polarising. You can mostly see people who loved like anything or hate till their last breath.
On a glance, Cybertruck seems to have been designed straight out of a sci-fi movie or a kids sketch book (still aware of that polarising example while making it).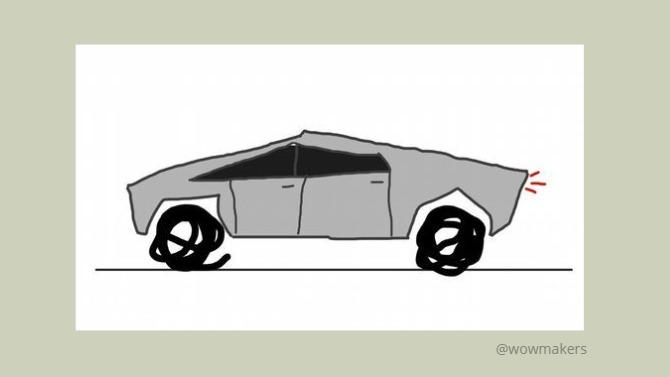 However, the design has an interesting story altogether. It's definitely possible to say that it is a clear example of 'form follows function', making it the biggest plus for actual users of trucks.
It could very well become an icon of its own, with celebrities and influencers queuing to buy and drive one just like how the slow, rugged, oversized yet insanely capable Humvees of the US Army attained cult status through its civilian avatar, Hummer.
To understand the context, we need to look at what Ford, Chevrolet, RAM, Toyota or any other major US truck manufacturers are doing at the moment. They are making vehicles with similar aesthetics and capabilities as their competition.
What Musk is doing is a case study in itself. He offered a utility truck, a sports car, and a tech gadget all in one.
Remember how the original iPhone was a phone, a music player and an internet browser all rolled into one?!
It seems Musk has finally figured out the logic and brilliance behind the Purple Cow theory by Seth Godin.
The theory says,
"The key to success is to find a way to stand out – to be the purple cow in a field of monochrome holsteins."
A Peek into the Design Goals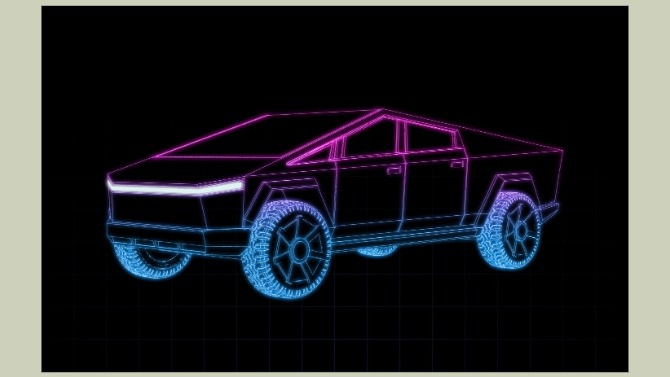 Source: Artstation
To be a purple cow, Cybertruck had a couple of design goals to achieve if they were to truly create an iconic product.
Look really, really different than anything in the market.
Pull much more load than any other truck.
More interior and storage space than the competition.
Should be able to take a strong beating, if it was to be taken seriously as a work vehicle.
It should be affordable.
Rather than a traditional body on frame, Tesla decided to design the truck with an exoskeleton. This means that the body and the frames are one and the same.
With unibody design, Cybertruck boasted reduced weight, improved fuel efficiency, and collision safety. Another reason Tesla went for this design is that they wanted a spacious vehicle, as they needed space for batteries.
The choice of material to go on the body was not surprising too, a 30x Cold-Rolled stainless-steel to avoid dents and long-term corrosion which had many advantages like 'lesser time for manufacturing, assembly, and no paint jobs'. Musk said it's the same material they use in their upcoming Starship rocket.
The body and windows are also bullet-proof up to 9 mm firearms. For a country like the USA, which is one of the most affected by gun violence, this might also be an attractive proposition.
Why the Triangle?
When it comes to strength, nothing beats a triangle – and the Cybertruck's passenger cabinet is basically one big triangle. As per Engineering logic, triangles are fantastic weight distributors across any system.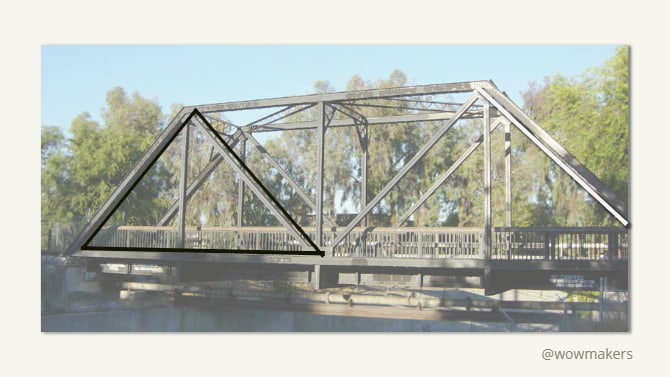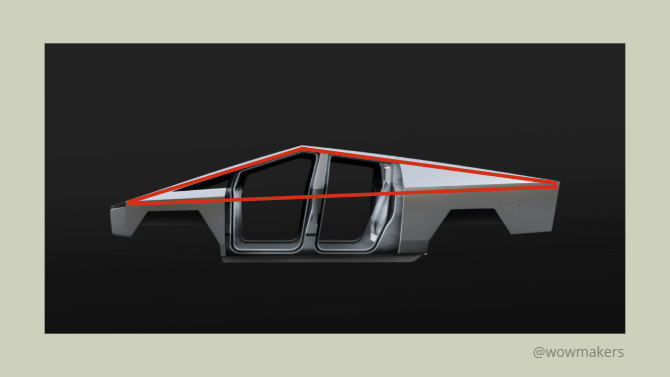 Another reason is aerodynamics that gives less air resistance, important for any pick-up truck aiming to go longer distances.
And the third – it allows Tesla to cut down on production costs, helping it achieve an entry-level price point of $40,000.
There are many more features that give the Cybertruck other-worldly looks.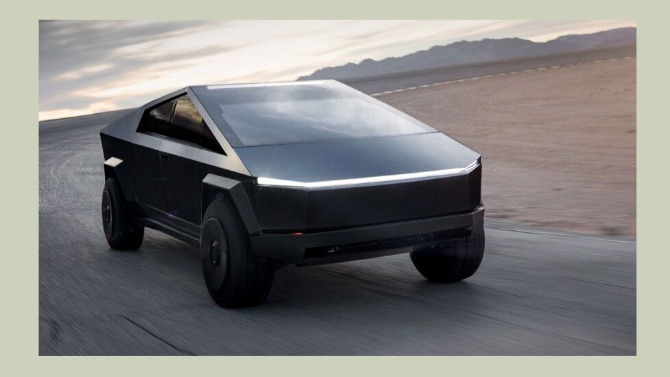 A simple single headlight bar that runs the length of the bonnet.
Spaces and grooves for roofs and hooks.
Addition of charging port at the rear.
Ramp for easy on-boarding of Tesla ATVs.
Tail Lights even when opened.
With those design goals, Cybertruck still managed to beat its rivals in the categories of payload and storage.
3500 pounds of payload capacity
100 square feet of exterior storage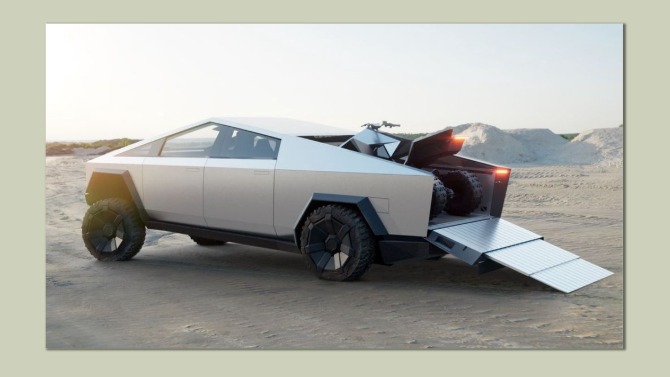 Future-Centered Design
In a matter of days, Cybertruck seems to have grown on people and the pre-order numbers have skyrocketed to more than 250,000 till the day we write this article. The cumulative order value of these many vehicles stands at a whopping $10 Billion Dollars!
250k — Elon Musk (@elonmusk) November 27, 2019
What more validation is needed to prove that the Cybertruck experiment was a roaring success? They didn't have to spend a penny on traditional marketing.
Brand and marketing strategist Mike Gastin believes it to be a masterstroke of branding.
"Being true to its brand promise, delivering the future."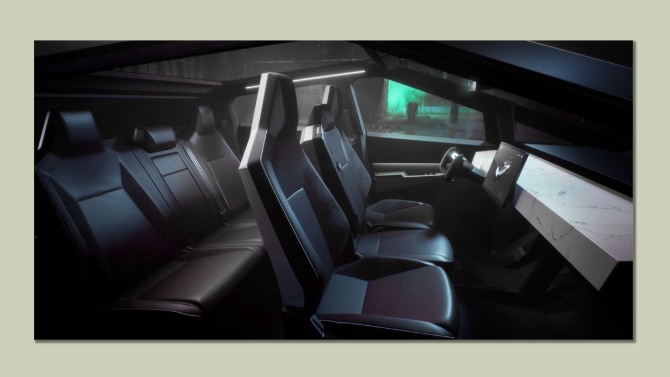 The genius of what they are doing right now with Cybertruck is that they are rolling out a model that would have been a concept car. This is said to be the outcome of Elon Musk's 'Zero Market Research' ideology.
It's simply iconic and its nothing like you have ever seen.
However, some style pundits certainly miss the boat on the Tesla Cybertruck.
They believe that no self-respecting truck owner will ever drive a Cybertruck because of the ridiculous design.
But Tesla had other ideas.
To them, basing an argument on what customers have said what they want is not exactly a receipt of being ahead of the curve.
As Henry Ford once said,
Had the Cybertruck been designed like other pickup trucks, it would look like this.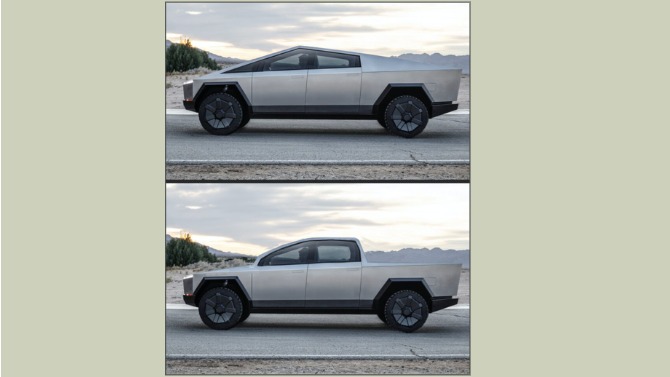 Not that enticing, right?
There it stems, the core idea of Tesla, to change the public's idea of who and what these electric cars are for.
It's for the future.
Game Changer
Cybertruck played the game so well that people who would have never thought of buying a utility vehicle or a truck now suddenly want one.
For many, it may replace the purchase of an SUV or a truck.
For many, the bold innovations and designs can be the defining factor to make the purchase.
One thing you can put down for good, is that Cybertruck has definitely changed the vocabulary of the vehicle design.
Look at some of the iconic designs that have changed the world. If Cybertruck doesn't make the cut here, it's not sure what will.
Moreover, some people think that Cybertruck was made ugly on purpose.
Maybe right now, it is the smartest thing Elon Musk has ever done.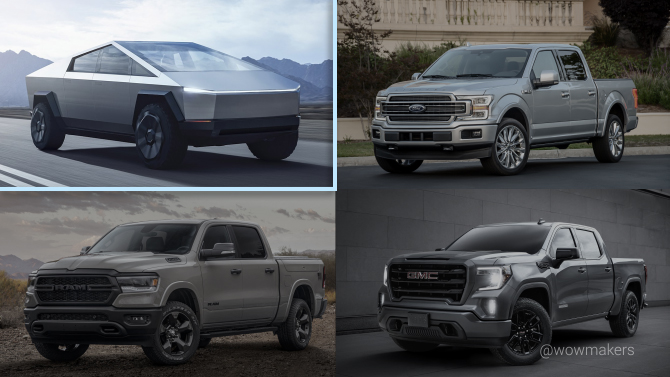 As it sure looks to be a purple cow in a field of monochrome holsteins.
Trick question: Where can one find the Tesla logo on the Cybertruck?
Comment your thoughts on the article. If you have anything to add on the Cybertruck design, be our guest and drop your comments. We too are trying to figure out where the logo is. We could use your help.
Credits
Featured image: Ismail Inceoglu
Others:
Reddit (u/obeymyrules)