If you've heard about explainer videos, you probably think they are just used to advertise a product or service of a business.
Fortunately, they are capable of a lot more than that.
Videos are the new marketing gold mines. 65% of people are visual learners, and since one minute of video is the equivalent of 1.8 million words, that's a lot of information people can absorb easily and in a very quick amount of time!
From big brands to startups, many companies are using explainer videos in a lot of creative ways to grow their business.
For an example, read our case study to learn how we helped HDFC Bank to promote their payment app.
In fact, videos can be used in each stage of the buyer's journey. Here's how Hubspot visualizes the buyer's journey: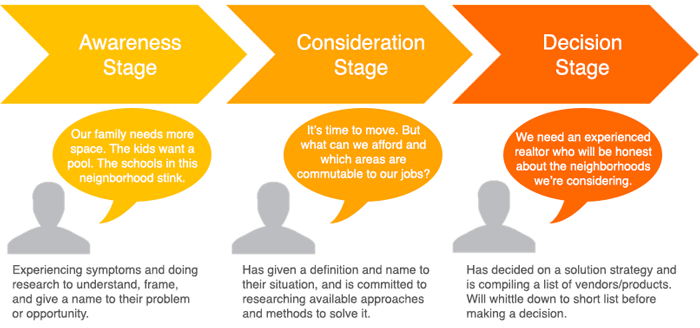 How To Use Videos In Each Stage Of The Buyer's journey
96% of B2B organizations use video in some capacity in their marketing campaigns, according to a survey conducted by ReelSEO.
However, a lot of B2B brands only create top-of-the-funnel explainer videos. A video marketing strategy shouldn't end at the top of the funnel if you expect ROI.
Aberdeen has found 60% of best-in-class companies are now using video from initial awareness through to post-sale. Today's customers go through more than half of the buying process on their own, so it's important to have a series of videos on your website to guide potential customers to purchase.
The most effective way to implement a video marketing strategy is the combination of 2 things: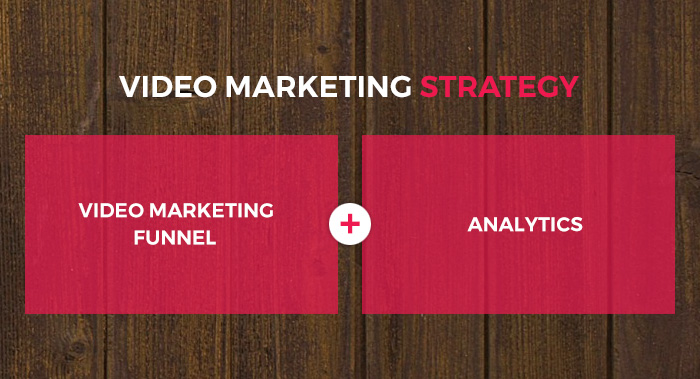 By Integrating video into a marketing automation system so you can track your video analytics and get proper insight from your video marketing.
Generate leads based on their interaction with your videos.
Measure how long videos are being watched and how users are engaging with the video.
Provide this valuable data to the sales team.
#1) Video in the Awareness Stage
The top of the marketing funnel is where you create brand awareness. You're letting people know about your company and how your product or service can resolve the issues of your potential customers. So brand awareness videos occupy the majority of this segment.
Objective: Get a lot of views and shares on social media. So, viral and engaging videos are the priority at this stage.
How to do it:
Try to spark an emotion through your videos. That's the secret to virality. These give an incentive for viewers to view and share videos.
Awareness is all about telling the world who you are, so create videos that show off your company culture.
Add fun videos to your blog so you can rank better on search engines add drive traffic to your website.
#2) Video in the Engagement Stage
The primary use of having videos is better communication with your audience. At this stage, the key is to inform and not sell at this stage.
Objective: Share information and content that are useful to your audience and keep them interested in what you have to say.
How to do it:
Create how-to videos centered on your products and host webinars for topics that your audience would be interested in.
Webinars can be used to educate the buyer as they consider different solutions to their problem.
#3) Video in the Nurture Stage
It's difficult to directly convert viewers into customers. This is why every marketing campaign has a lead nurturing phase prior to purchase. So it's important to nurture leads through independent video campaigns.
Objective: Build e-mail subscriber base through form submissions and CTAs within the video.
How to do it:
At this stage, the number question in your viewer's mind would be – "Can this really help MY problem?" And the best way to prove that it is is to show them how other customers have benefited from the various solutions out there.
Social Proof is a very strong psychological trigger. So have great customer testimonial videos at case study videos ready at your disposal.
#4) Video in the Purchase Stage
Now your leads are ready to purchase.
Close the deal with an explainer video. Make sure your sales team has the best possible tools to close that deal.
You need great product demos, of course, but sales videos can go well beyond that.
Make sure your sales rep knows which videos each prospect has watched, to give the rep context and full insight into the prospect's areas of interest.
Objective: To explain exactly how your product or service works and to showcase how your product stands out from your competitors.
How to do it:
Product demos are a great way to build trust and authenticity of your product. 64% of customers are more likely to buy a product after seeing a product demo video. Have this video right next to the product description and add a CTA to purchase.
Personalized videos are the game changers in marketing. Create personalized videos and integrate them with your marketing automation system. This will give your sales team a big edge in impressing new leads to purchase.
There are many video websites like Vidyard that offer video creation tools. So now your sales team can easily follow up leads through personal videos.
You can even use a video to train your sales team on the latest messaging when selling a new product.
Recommended Reading:Best Explainer Video Software.
#5) Video for Customer Retention
The relationship doesn't end with the sale. Make sure you keep up steady engagement so your customers not only come back but also spread the word for you—and keep coming back for more.
Create some with your current customers in mind, too, so they know you care about keeping them up to date on the latest developments and techniques.
Welcome new customers on board! Whether a thank you video from the CEO or a personalized greeting from their account manager, people enjoy feeling like they're establishing a personal relationship.
Consider both live and on-demand customer training videos. It's a more efficient, effective way for people to learn.
Invite customers to share their experiences with other customers with their own how-to's, so they can learn from each other and feel part of a bigger community.
What Are The Different Ways To Use Explainer Videos
#1) For Product Awareness or Differentiation
This is probably the most common use of explainer videos.
The idea here is to remind the audience of their pain points and make them aware of the product or service that can help them with their problems.
A lot of companies are using videos in this way on their landing pages. By providing a CTA at the end of the video, you can influence your visitors to stay on your website.
There are many ways that explainer videos are being used for this purpose.
You can have an explainer video right on your landing page.
You could create a video explaining your product and service and discuss the pricing.
Product description videos: One of the main reasons that customers shy away from online purchases is that they can't depend on product images to get a clear idea about the product. This can be taken care of by including a product explainer video, describing the features of this product. Add a CTA at the end of the video urging the customers to make the purchase.
It could also be a video about how your particular product or service stands out when compared to your competitors.
Take a look at HubSpot's video:
#2) Videos On Landing Pages
Including video in a landing page can increase conversion by 80%.
That's a tough number to ignore. Landing page videos are a great way to showcase your company.
Having an explainer video can easily and effectively summarize the product or service your business provides. Here are a couple of tips for landing pages.
It's important to have your video placed above the fold of your landing page so that they do not miss the video if they did not scroll down to see your video.
A good thumbnail can be a powerful trigger to play. Choose a frame of the video that generates the most curiosity as your thumbnail image.
Give the viewers your value proposition. Understand customer's problem and tell them how you would fix it. Then you can convert them with a clear call to action at the end of your video or a CTA button below the video player.
Also read:Video SEO Guide by Brian Dean.
Check to see if your video is running smoothly on smartphones and tablet devices. Do not autoplay landing page videos! The viewer should have the choice to watch the video or not.
The problem of auto-playing is that it will reduce the loading time of your entire landing page and this could mean that viewers will leave your website.
Bonus Tip: Landing page does not refer to your home page. So don't make the mistake of thinking you can have videos only on your home page. Be creative and try to incorporate videos on your work culture page, support page or even pricing page. Leverage the benefits of video throughout your website.
#3) Videos to Show your Company Culture
An explainer video is a great way to tell the world what kind of people work for your company.
Consumers are driven to act based on emotions and not on fact alone. Besides learning about your product and service, customers want to know about the culture of your new business.
More often than not your target audience will have a similar personality as your brand.
An explainer video gives you a chance to showcase far more personality and a human approach than text.
Within your video, you can show footage of your crazy and creative team that works at your company.
This would be an ideal video to place on your about us page on your website.
Bonus Idea: Behind The Scenes
Your goal is to share with the world what kind of people you are.Take this a step further and show the workflow and thought process behind your projects. This is not only valuable information, but it also builds an impression among your viewers that you know exactly what you are doing.
Take this a step further and show the workflow and thought process behind your projects.This is not only valuable information, but it also builds an impression among your viewers that you know exactly what you are doing.
This is not only valuable information, but it also builds an impression among your viewers that you know exactly what you are doing.
Coschedule has done a brilliant job at this through their #overheardatcoschedule vlog series.
Watch the #OverheadAtCoSchedule videos to discover the methods these guys use behind the scenes at CoSchedule to grow faster than ever, and learn exactly how to implement them yourself.
Take a look at the video at their page.
#4) Videos in your blogs
Including explainer videos in your blogs are a great way to boost your SEO (search engine optimization) ranking by making visitors spend more time on your blog.
(We provide SEO services for promoting YouTube videos)
How to make the most out of videos in your blogs:
It can be overwhelming for the viewers to read a lot of text content. Having videos in the middle of your text content is a refreshing break for your viewers and it can increase the time viewers spend on your post.
Most successful bloggers today have a video right at the beginning of the blog post to explain the contents in a shorter span of time. This helps to communicate your ideas to the viewers who are not too keen on reading.
Provide a compelling CTA at the end of the video. It could be a form submission to capture emails or simply redirecting your viewers to similar blog posts.
Trying taking this a step forward and transform your blog into a vlog.
Guest blogging on other websites with similar target audiences is a great way to boost your traffic and increase your online presence. Placing your marketing video in your guest post will lead new visitors to your website, your blog and even your YouTube channel.
#5) Easy and Effective Training
One of the many challenges in an organization is to train employees effectively. Using internal training video is a unique way to make sure that employees retain the information they need to be successful on the job.
By engaging workers with visually oriented stories, explainer videos ensure that your employees are getting the right message. Additionally, internal training videos can be updated easily as procedures change.
An Animated explainer video is an ideal and most fun way to achieve this.
Whether you're demonstrating how to use a complicated software system or conveying the details of an acquisition, using video is the best way to ensure that viewers retain the information.
Here are five videos businesses can use for internal training and communication:
Reports and Presentation Videos.
IT Support Page Videos.
Employee Orientation Videos.
Health and Legal Explainer Videos.
Job Training Video.
Whiteboard animated videos are the best choice of style for effective training and educational videos.
Besides this, you can train your target audience through videos as well. By sharing helpful information, you can really grow your viewer base, and videos are the best way to do so.
#6) Client testimonials
Almost every business includes a customer testimonial page on their website. They are important for building trust and loyalty to your business.
But nowadays it's difficult to trust these testimonials. How do we really know if these are authentic or not?
Marketers are taking testimonials to the next level by making videos with their customers.
By having a customer testimonial video you can have your loyal customers directly share their experiences of doing businesses with you. By actually putting a face to these testimonials, it builds a sense of authenticity.
Check out this customer testimonial by Slack.
This video is interesting because it serves a dual-purpose – it's a testimonial because the company that made it has used Slack, but it also serves as a demo of all of Slack's features.You might like:How To Make Customer Testimonial Videos That Work.
#7) Videos in Emails
Video is becoming one of the most important content formats online for many reasons, it's easier to consume for users, it offers many opportunities for great distribution, it allows your brand to be more human, and it's a great way to implement storytelling in your content strategy.
But emails still remain the most effective communication vehicle to date and probably the biggest driver of ROI.
Think of the possibilities of combining these two powerful channels.
Videos help your emails stand out. They are much more engaging than a textual copy and there is a much higher chance that your message will be communicated to your target audience.
Videos in emails lead to higher ROI. Research shows that video emails received the better response in terms of open rates and conversion rates as compared to traditional emails.
According to Syndacast, just including the word video on your email subject line can:
Boost open rates by 19%.
Boost click-through rates by 65%.
Reduce unsubscribes by 26%.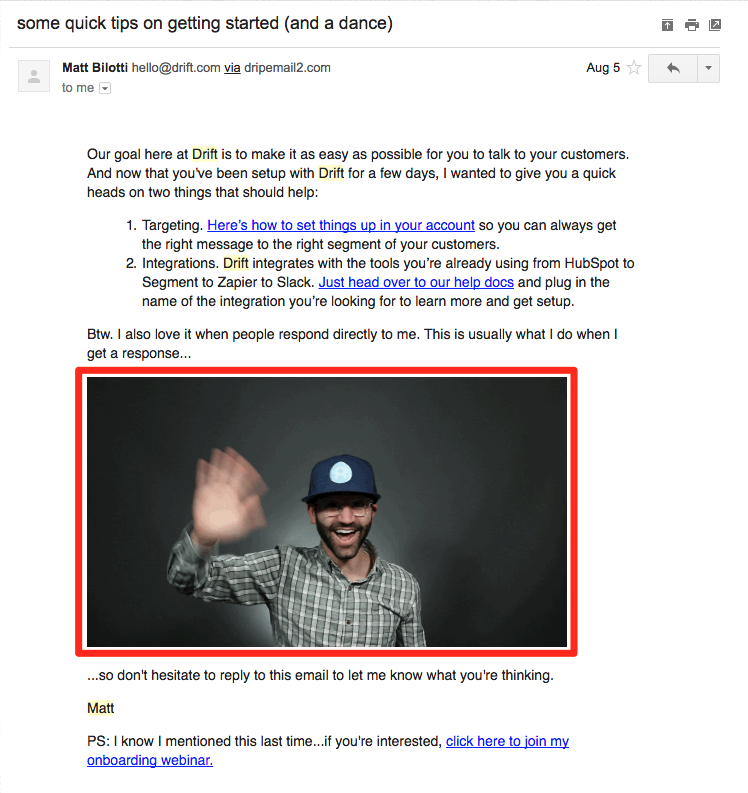 The videos could be product demos, customer testimonials, training course videos or even a simple thank you video to your customer.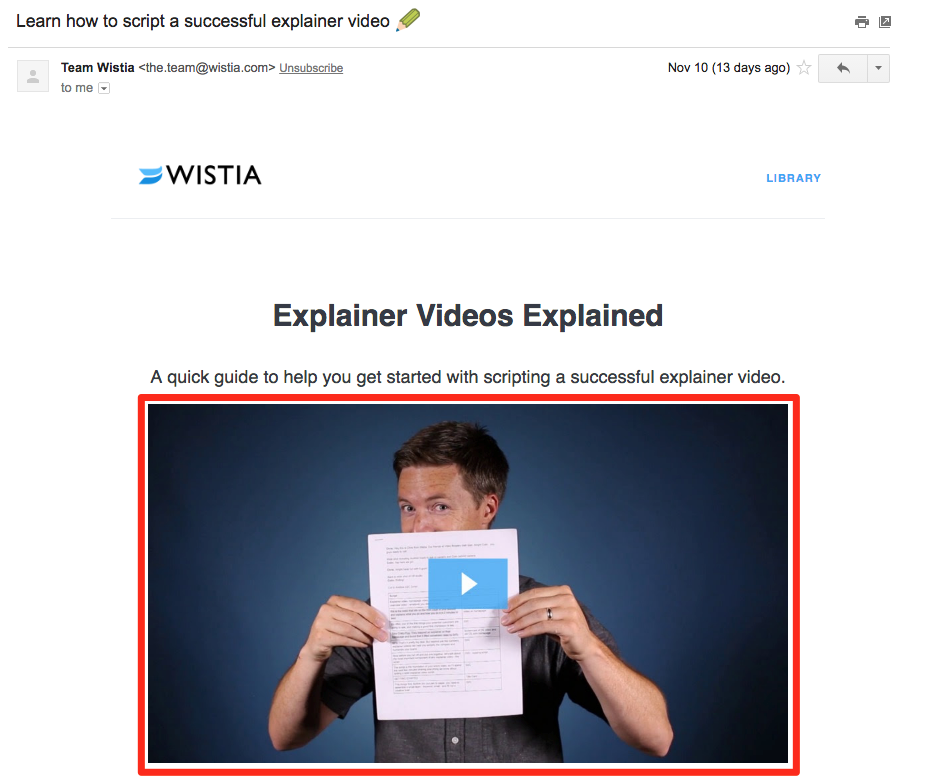 Videos add a human element to the communication process and are thus very effective with emails.
#8) Videos in Social Media
Can you think of a social media platform today that does not use video. Even twitter, which started out as a social medium to share text are now focused on videos.
YouTube is the second most popular social media website today. That should give you an idea of the power of videos.
Facebook initially allowed only paid video promotions. But recognizing the immense possibilities of video, they have now optimized the website for much more free video content promotion. Have you ever scrolled down your news feeds and not seen a video?
By including videos on your Facebook page, your followers will get direct notifications on their feed. Whether you are promoting a new product or an update, or just spreading a holiday message, if you go video, you can be sure that people are going to watch it
Similarly, Instagram, Twitter and all other social media platforms are optimizing their sites for videos.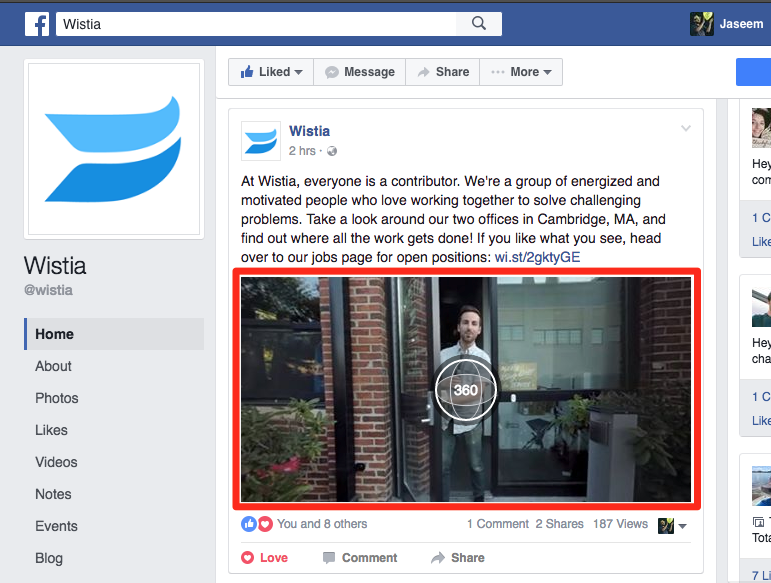 #9) Videos for Case Studies
Case studies are very effective content to convince and convert leads. They are great because:
Potential customers can relate to the scenario.
They show the entire journey of the customer and tell the story of how your business approached the customer's problem and how you were able to help them achieve their goals.
They are backed up by real statistics and solid data. The fact that viewers get to hear all this from a real person makes the case study more humane and authentic.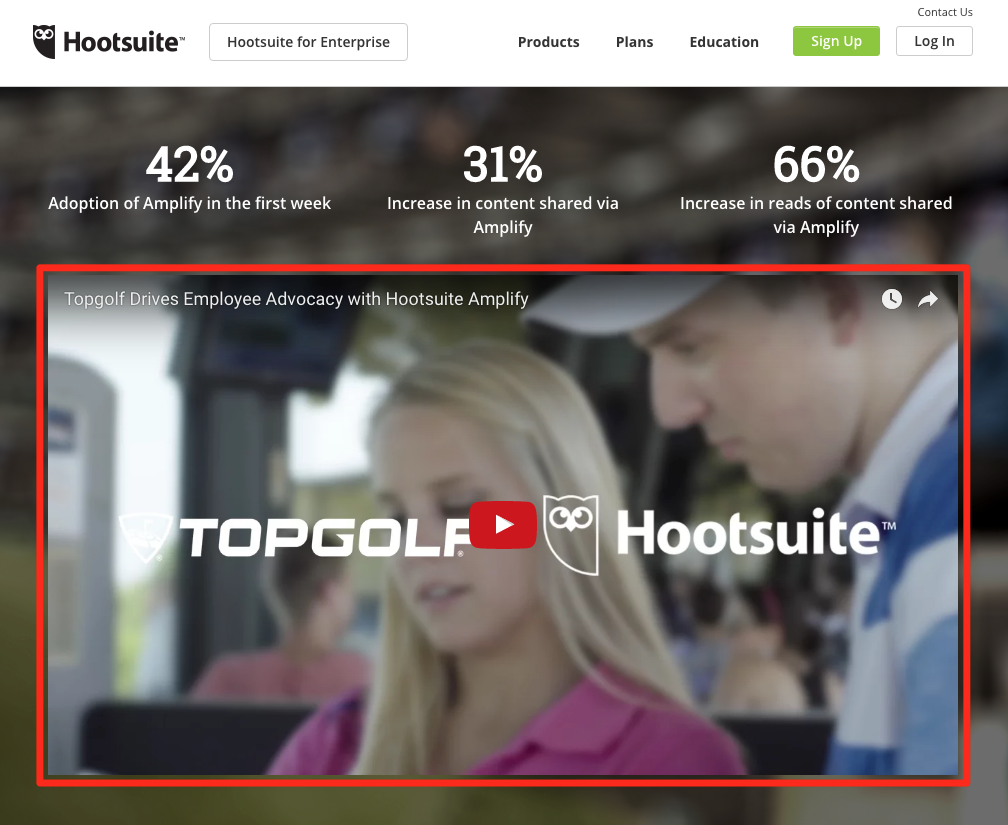 #10) Answer customer questions
Customer feedback and questions are an essential part of maintaining existing customer relations and properly informing your potential customers. This is why a lot of businesses today have FAQ pages on their website to handle these queries. But you can take this a step further by having a video series to address customer queries. Drift has come up with a great video series called OfficeHours, where they would answer customer queries every Friday through a video. https://www.youtube.com/embed/RxVga2Q3TYk
This is great because it makes customers feel special that you have taken the time and effort to address their questions.
Over To You!
Now that you know why you should use explainer videos and where to. Isn't it time you start?