The successful businesses of today revolve around customers, which keeps them competitive and thriving. Customer-centricity means making customers a top priority and placing their needs at the center when devising a business strategy and objectives. It also implies providing tangible value to customers when providing services or creating products.
When you successfully manage to provide that kind of value and acquire a pool of loyal and engaged customers, you might wonder what the next step is. Well, the best way to scale up your business further is to showcase all the successful experiences of your existing customers to prospects.
You can do this through building social proof using customer testimonial videos to show your potential customers why and how your solution works through the emotion-inspired stories of your existing customers. These stories in the form of video testimonials will help build trust, empower your brand authority and make your business expertise more relevant.
Creating customer video testimonials can be demanding and it usually requires high-quality equipment and a professional touch for the best effect. By best effect, we mean building a stronger presence, brand awareness, and ultimately closing deals faster.
Let's see how to make a perfect video testimonial that skyrockets your social proof to close more deals.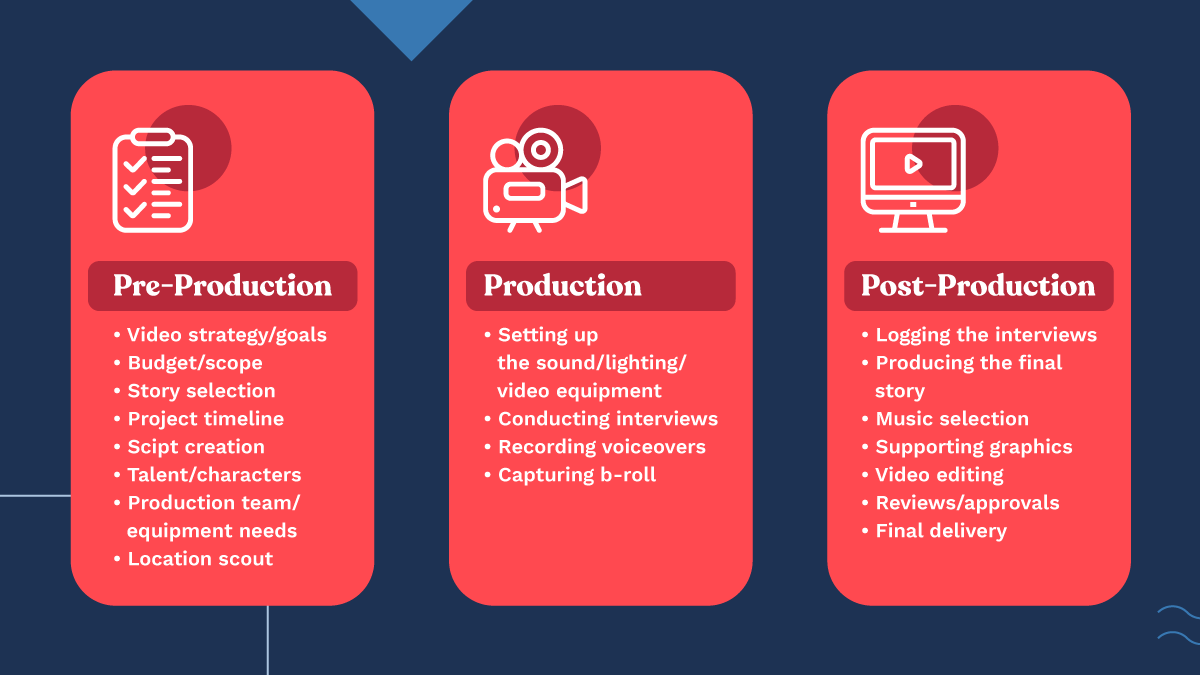 Making a script and crafting interview questions
For transferring your customers' insights and successes in the most compelling and coherent way, you should create a semi-script and prepare interview questions. Writing a script and forming interview questions helps you give more structure to the video and extract the reasons and emotions behind customers' satisfaction.
On the other hand, it is important to allow for spontaneity, because this will make the whole testimonial authentic and natural. If the interviewee slips off of a predefined track or wanders off a bit while talking, just let it be. This will bring authenticity up and might even uncover some of their "wow insight".
To cut the clutter, for B2B video testimonials you can use some script elements like cue cards as a reminder or to streamline the conversation a bit.
Interview questions serve a different purpose — to extract valuable insights and lead the flow of the interview.
Your interview questions should follow the whole process of how the customer successfully solved their problem chronologically. In particular, that includes these stages:
Their experiences and period before using your solution
Their experiences and period while they were using your solution
Their experiences and period after they successfully solved their problems
Interview question tips
Here are some tips for making impeccable interview questions, categorized by stages.
The period before customers found your solution:
Ask them to describe their experiences and pain points before they found your company or product
Entice them to share how they felt while facing their problems
Ask them to describe how were they searching for a solution and what challenges they faced while doing so
Let them open up and share their unsuccessful attempts at solving their problem
Ask them to describe what other solutions they've tried
The period while they were using your solution:
Invite them to share why they chose your company
Ask them to explain how they benefited from your solution
Get them to describe how they felt while they were using your solution and what they liked the most
What were their expectations when they decided to purchase your products
What features of your solution made the difference compared to those of competitors
The period after:
Ask if they would recommend your product to others who are experiencing similar problems and why
Ask them to share if working with you exceeded their expectations
Ask them what is their message to others who are considering to start working with you
Some other tips that apply to the customer interviews in general:
Try to dig dip into their feelings, opinions, and beliefs and entice them to openly share them
Use "why" questions to better extract insights
Avoid any biases with your product or service
After you finish asking your questions, ask them if they would like to add something and if they have any questions
Ask them if and why would they recommend your products, services, or company to others
Use open-ended questions and avoid Yes/No questions)
All of these tips cover how to lead the interview and extract valuable insights, but are carefully structured at the same time for creating suggestions. Precisely, they subtly lead the interviewee to give answers that will subconsciously guide the viewer and push them to decide and close the deal.
For example, when you ask the interviewee "What were the problems you faced before discovering our company?", you'll get the viewer's attention and get him to correlate with those problems.
Here, the interviewee's answer covers all the stages from initial problems to ultimately solving them (with your company) and the viewer will subconsciously identify your solution as "the cure" that will most likely, finally solve their problem. In other words, they will feel that they can trust your brand and expertise and they'll want to use your products and services or start working with you.
When you have formulated your interview questions and have prepared your interviewee for the interview, you should focus on the equipment.
Choosing the right equipment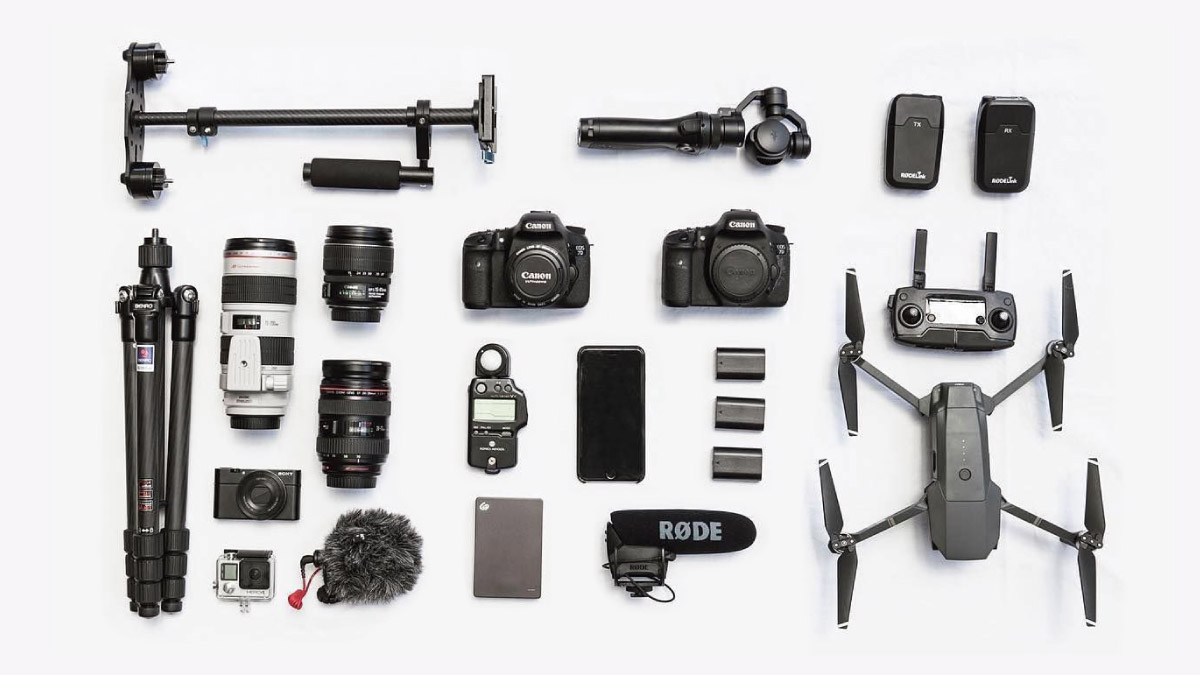 Having a high-quality testimonial is essential, as it shows your company's diligence and commitment to maintaining a high standard.
Therefore, choosing the right equipment is mandatory, and you can invest in buying your equipment or in hiring a team of professionals. Smaller businesses might consider buying good-quality equipment to record customer videos that can close deals faster and there are a few best options we'll soon get into.
On the other hand, for larger businesses and B2B companies, the best way to go is to hire a professional team that specializes in making testimonials. That way, companies can save a lot of time and outsource the work to experts to get the desired result — a top-notch video testimonial that sells.
Video testimonial experts will make sure to prepare you and your customer and after carefully listening to your needs, formulate a recording strategy. The whole process is hassle-free and you just need to provide inputs for how you want your testimonials to turn out. This is how that process might look like when taken care of by B2B video testimonial experts:
Pre-recording calls with you to precisely understand your needs and gather all the necessary information about how you want your testimonial to look like along with formulating interview questions.
Pre-recording a call with your customer (the interviewee) to discuss the interview questions and make sure everything is well-understood and accepted. This call also serves the purpose of explaining to the customers how the recording process looks, to make them comfortable, and answer all of their questions.
Recording-day encompasses setting up the scene, filming with top-notch equipment (A-roll and B-roll footage), and leaving without disrupting your working environment.
Post-production is the last step before your testimonial is ready to be published. It includes editing, using special effects, adding graphics and text, etc.
Now, let's dive into the best, cost-effective video equipment to create a powerful testimonial.
Video equipment
Testimonials should be recorded with a professional camera that records HD videos at a minimum, but preferably, go for a camera with 4k. With many options on the market, it is necessary to keep in mind these things:
Recording format — It is best to go for a solution that records in .mp4 because it is a versatile format when it comes to file size, editing, and compatibility with a lot of video-editing software.
Camera's audio capabilities — In general, DSLR camera built-in mic have poorer sound capabilities compared to camcorders.
Camcorder vs DSLR — There are many dilemmas regarding convenience and quality of recordings. It is hard to decide what to go for, as each has its strengths and weaknesses.
Now, the ideal solution is to use both, each for a different purpose. With a camcorder, you can effectively record the A-roll (interviewee and narration) with decent audio quality, and with a DSLR camera, you can record B-roll in high quality. Also, camcorders are usually less expensive than a high-quality DSLR camera. When combined, they create a powerful 2-camera setup to record stunning customer testimonials that close deals faster.
The third option is to go for a top-of-the-line digital camera since it offers great versatility and combines the strengths of both DSLR cameras and camcorders. The only problem is the substantially hefty price tag of these cameras.
Audio equipment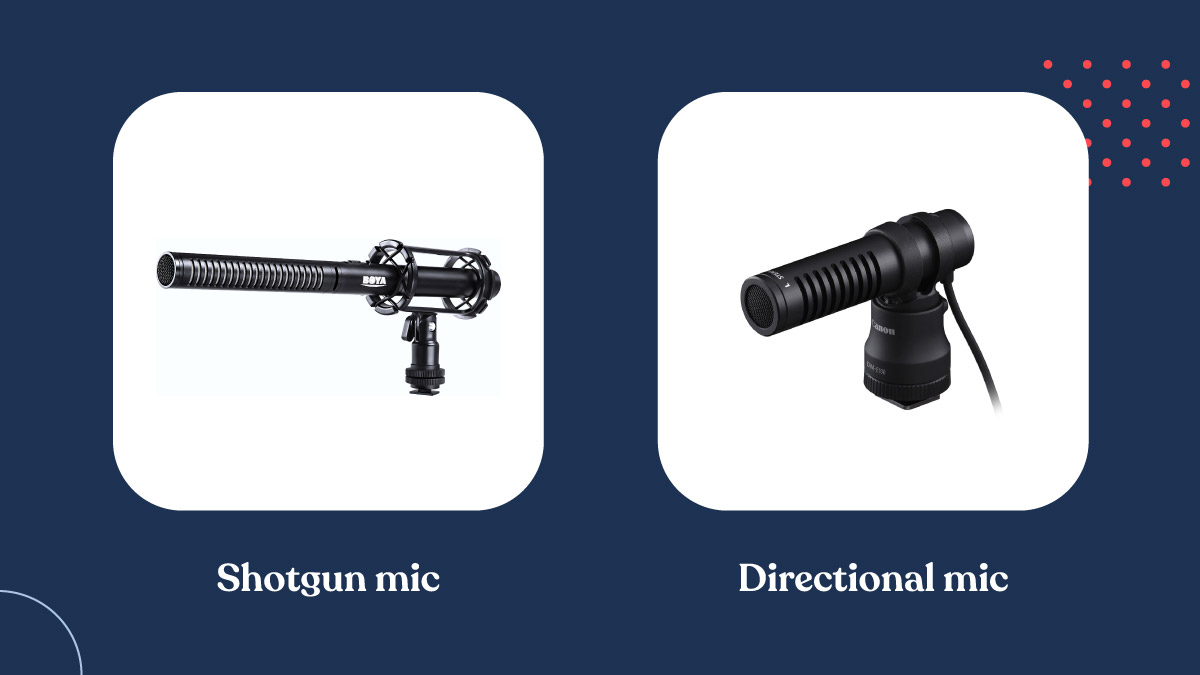 The one thing that gets the viewers hooked with a testimonial is a story, and there is no good story without a high-quality sound. Therefore, the sound needs to be clear and of excellent quality, with adequate emphasis on the interviewee's voice without background noise. You can vary the emphasis on the interviewee's voice depending on your goal and what you want to accomplish:
Shotgun mic — It gives a high-quality sound and allows background noise since it collects audio from all directions. However, you might actually want to include some business noise to empower the business environment vibe (if you are recording at the workplace).
Directional mic — It is designed to collect the audio in one direction only, which gives the clearest sound of the narrator and effectively eliminates the background noise.
Additional equipment
Having video and sound covered simply isn't enough for breaking video testimonials. You will need to have a palette of supplementary equipment that aids the recording process, by aiding its quality in general. This serves the purpose of enabling the camera and microphone to be used at their top capabilities and to improve the whole scene.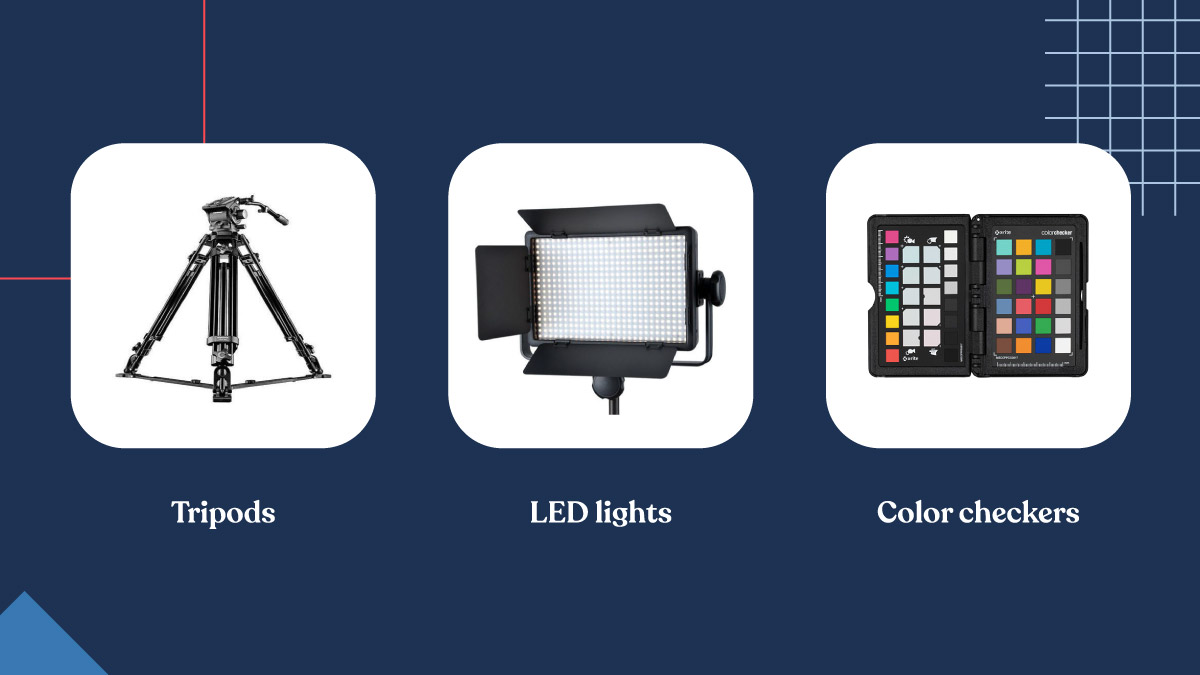 Some minimum of additional equipment to consider is:
Tripods — Tripods are used to stabilize the camcorders or the camera and to prevent shakiness and keep the video steady. All professional videos are usually recorded using tripods for stabilization, and customer videos that close deals are no different. You should go for a pan-tilt swivel tripod with a fluid head as it is the best-buy option that offers good stability for shooting on a smaller scale (ideal for smaller businesses).
LED lights — Lighting depends on the location where the recording will happen. If you plan to shoot outdoors or indoors in well-lit conditions, you probably don't need additional lighting ambient lighting is enough. However, with a location that has poor natural lighting, LED lights make a difference.
Color checkers — When you change the position of your camera, focus, or when lighting changes, colors tend to change and might appear washed-out or unnatural. Color checkers are used to keep the color constant during the whole recording process.
The proper positioning of the camera and lighting with proper framing (long-side frame) is essential, and without it, the video might not look professional even with the elite-quality equipment.
The recording process
After you have chosen the equipment and double-checked everything, it's time for the actual shooting. Have your recording team on-site and ready for shooting and make sure that you get some refreshments for both the recording team and interviewees.
First, you will start recording narration, often called A-roll or primary footage, which represents the main part of the testimonial. This should be a shoot of up to 15 minutes, with your customer (the interviewee) sharing their message and experience about your company. You should also set up the scene properly and make sure there is no backlighting from the windows.
You can also choose the background that shows your company's logo or products on the wall or you can simply record inside an office where your employees can be seen working in the distance. Choose whatever you think will fit more with your brand, your culture, and the testimony itself.
The A-roll's 15 minutes of raw material will usually make up for 2 minutes of edited video.
Next off, proceed with recording B-roll, often called "the business shoot" or supplementary footage, which accounts for shoots of the work in action. That said, you can record your employees working with customers, your company's workspace or building, and anything that represents or shows your company's culture and values. If possible, include the scenes that showcase how your solution brought value to your customers.
The purpose of B-roll is to add depth to your testimonials and make the story richer by showcasing the environment hands-on. B-roll scenes should be recorded from multiple angles because that will give you versatility when it comes to combining them with A-roll to support the main story.
Post-production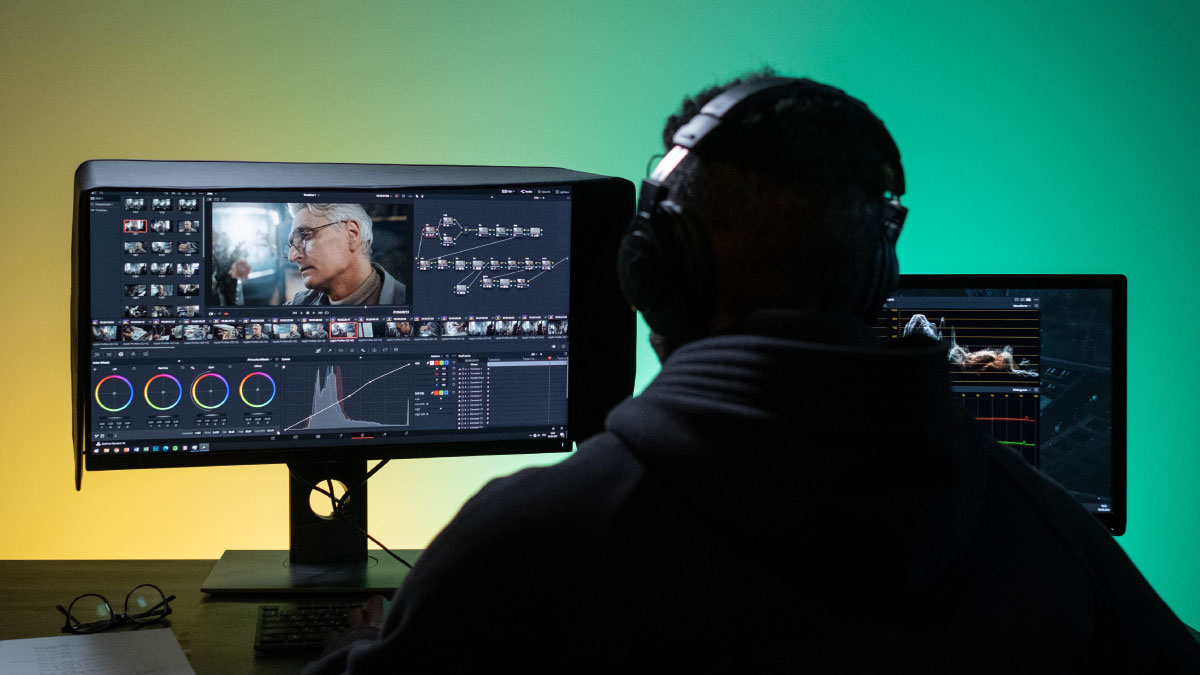 At this stage, the recording process should be completely finished, including all B-roll footage and any additional material you wanted. This is the hardest and the most time-consuming part because you will need to transform the raw video into the best possible video testimonial that successfully closes deals.
Therefore, there will be a lot of video editing and experimenting that should result in completed video testimonials, ready to be published. 
The main activity in this phase is cutting down the raw footage to leave only the most meaningful answers or insights. The objective is to leave up to 2 minutes of raw footage in total, that will be used as your primary, A-roll footage. This is the most time-consuming component and you'll approximately need 4-8 hours to edit 1-2 minutes of footage.
Afterward, you can start matching B-roll scenes with topics that the interviewee talks about in A-roll. Example: When the interviewee starts talking about your company you can add a soundless B-roll scene that shows your company's building.
You can also overlap the visual A-footage part where the interviewee talks about the first time they came to your company with a soundless B-roll scene. This B-roll scene should show your customers in your workspaces (leaving only the interviewee's voice in the mix).
After this, the goal is to add additional elements in the form of graphics, text, or effects to further enrich your testimonial or add additional information. This includes adding information like your company's name, your business phone, address, etc, in text format at the beginning of your testimonial. You can also place your company's logo in the testimonial somewhere in the corner.
Moreover, you can use these elements to subtly showcase your business successes — e.g. " Over 10, 000 satisfied customers".
After all of the edits are done, your customer video testimonial is finally ready for publishing to help you close deals faster. The best practice is to publish B2B video testimonials to a dedicated page on your website and close to CTAs (Call to Action) across your website.
Another effective tactic is to include testimonials to your ads to market across a multitude of popular platforms like Google My business, BingPlaces, Yelp, etc. Of course, adding testimonial videos to your social media channels and using them in email campaigns is equally important and effective.
Reporting
When you publish your high-quality video testimonial, you'll surely want to know how it performs and how effective it is. To know this with precision, you'll need to link metrics and analytics to your testimonials with suitable software that can measure and create comprehensive and concise reports.
That said, there are 3 of the most important KPIs (Key Performance Indicators) linked to video testimonials:
Number of views
View duration
Conversions (the number of signups, calls, clicks) after watching the video
Final words
Despite the rapid growth and popularity of the streaming video format, customer testimonials are still the best type of videos to showcase social proof and as a result close deals faster. The stronger social proof you build, the stronger presence and credibility your company will have. The main component of strong social proof should be the quality behind your solution. That means having the expertise and dedication to make your customers' lives better and truly caring to hear and help them out.
However, without high-quality video testimonials and a video marketing strategy you won't be able to effectively convert the broader audiences you are reaching out to. After creating a professional video testimonial as described in this article, focus on the strategy to leverage your testimonials to the fullest.