Let's step into a land where creativity knows no bounds and imagination reigns supreme. That's right, the magical realm of corporate animation videos is where brands come to life, stories are told with vibrant colors and movement, and messages are conveyed with wit and charm!
Whether it's the way characters dance across the screen, the hypnotic flow of shapes and patterns, or the sheer joy of watching a story unfold before your eyes, something about animation enchants us all.
From leading companies to small startups, more and more businesses are turning to corporate animation videos to tell their stories, present their products and services, and show their values and culture, animated marketing videos for business, and many more.
Corporate animation videos offer a wide range of styles, from whiteboard animations to kinetic typography, motion graphics, and explainer videos, making them versatile tools for bringing brands to life and conveying messages effectively.
With the ability to choose a style that suits their brand, businesses can capture audiences' attention and create engaging and memorable content.
Let us guide you through a curated list of 25 spectacular corporate animation examples that will ignite your creative spark and inspire and amaze you.
25 Spectacular Corporate Animation Examples to Get Inspired in 2023
KEBS's explainer video's creative and visually appealing approach to showcasing the benefits of their all-in-one business suite makes it an ideal introduction for potential users, viewers, and investors.
The video's unique approach allows viewers to understand what makes KEBS the perfect tool for teams to communicate, collaborate, and connect with other teams.
Through sleek animation and a captivating tone, the video can successfully capture the attention of its viewers while also conveying complex ideas, messages, and concepts engagingly.
Combining a visually pleasing aesthetic with informative content, KEBS's explainer video sets a good standard for corporate animations.
The explainer video created for PRIM Technologies is an excellent example of how entrepreneurs can utilize explainers to communicate their story effectively.
Using its compelling images, straightforward narration, and dynamic sound design, PRIM's explainer video effectively conveys its message.
Beginning with an industry overview, the video showcases how PRIM's platform can be utilized to connect with like-minded individuals and develop meaningful relationships.
The video conveys the company's objective in a lively and engaging manner using a modern and simple design.
#3) Rymindr
The explainer video for Rymindr is distinctive as it emphasizes user pain points rather than product capabilities.
It deftly highlights the widespread issue of forgetting crucial activities and appointments and how Rymindr may help individuals stay on track.
The video is intended to be both informative and entertaining, with a fascinating tone and striking imagery. Also, it is concise, making it easy.
#4) Slack-Work, simplified
Slack's "Work, Simplified" corporate animation perfectly shows how exceptional animation can bring a brand to life in minutes.
The vibrant colors and lively music create an environment where work can be enjoyable and productive.
The simple yet powerful narrative follows people as they go about their day, struggling with outdated technology and various other obstacles.
As the video progresses, we see Slack come to the rescue, streamlining their workflow and ensuring that tasks can be completed quickly and efficiently.
The animation uses clever transitions and visual effects to capture the viewer's attention, making it engaging and memorable.
#5) Airbnb-Love
Airbnb's Corporate Animation "Love" is an excellent example of how complex business concepts can effectively communicate visually and engagingly.
The animation's unique, vibrant style instantly captures viewers' attention. Combining warm 2D human figures, hip animation, and an upbeat soundtrack creates a dynamic viewing experience that engages the audience.
The animation does a great job of conveying Airbnb's message of "love" engagingly and creatively. The main characters, the hosts, are portrayed as real-life heroes by showcasing their unique stories in an inspiring manner.
The voiceover effectively ties all elements together to provide viewers with a clear understanding of Airbnb's brand message.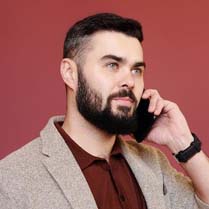 Are you ready to make some great videos?
#6) Amazon One
Amazon One explains its new biometric payment system visually appealingly in just a few minutes.
The 3D animation uses bright colors and simple graphics to bring the concept to life while staying true to Amazon's brand identity.
What makes this explainer stand out from the rest is its story-telling approach. It uses characters to illustrate how the payment process works in an easy-to-understand way.
The animation also presents the key features of Amazon One and its benefits concisely and directly.
The animations used throughout are humorous and informative, making the video an enjoyable experience for viewers.
The use of sound effects and music helps give it a more dynamic feel, which is perfect for a product as innovative as Amazon One.
#7) Headspace
Headspace's animated explainer shows how corporate animation can be fun, informative, and memorable.
The video starts with a brief introduction to set the scene and explain why meditation is so powerful—something that would be difficult to convey in live footage.
Then it transitions into a colorful mix of animation styles, each tailored to demonstrate the potential benefits of meditation uniquely.
What's especially impressive about Headspace's explainer is that it is witty and entertaining without sacrificing educational value.
#8) Apple Health
Apple Health's animated explainer demonstrates how this form of storytelling can effectively communicate complex topics.
The explainer uses an exciting mix of 2D and stop-motion animation that helps bring the message of health and well-being to life in an engaging and relatable way.
#9) Deloitte-Future of Mobility
The Deloitte: Future of Mobility animated explainer showcases a futuristic, comfortable lifestyle everyone dreams of.
The animation style brilliantly transitions between 2D and 3D to create an immersive experience for the viewer.
The creative use of voiceovers gives the video genuine character and life.
It also provides an in-depth look at the app and its features, making it easier for users to understand how it works.
The animation style is also eye-catching and attractive, with vibrant colors that make it stand out from other animations.
#10) Spotify
Spotify's animated explainer effectively communicates the brand message in 30 seconds without relying on voiceover or dialogue.
The subtle and clever animation instantly draws you in, creating an inviting atmosphere that exudes relaxation. You can almost feel yourself being transported to the lush green field, with snow-capped hills and aurora borealis lights dancing in the night sky.
The animation creates a captivating story that shows how Spotify can transform any room into a peaceful paradise.
It cleverly uses an animated character to represent feeling tired after a long day at work, highlighting how music from Spotify can be a gateway to tranquility.
#11) Google Assistant
With its simple yet colorful animation style and modern design, the video presents Google Assistant in a fun and engaging way.
The video cleverly showcases all the product features through captivating visuals.
Through animation, the viewer can get a clear and comprehensive understanding of how Google Assistant works.
The video also features different characters from different backgrounds and ages to showcase how the product can benefit everyone.
The use of animation helps express complex ideas in an easy-to-understand manner that engages viewers effectively.
By keeping the visuals light-hearted and fun, the video successfully achieves its goal of presenting Google Assistant in a friendly and relatable way.
#12) Time2Match
Time2Match's animated explainer video captures the viewer's attention within seconds and clearly explains how their service works.
The animation style has a timeless feel, with vibrant colors, smooth motion, and clear illustrations—all of which makes for an engaging viewing experience.
The storyboard is also cleverly crafted; it takes the viewers on an exciting journey to understand how Time2Match works while keeping them engaged through a humorous narrative and light-hearted characters.
There's also a beautiful music track that complements the visuals and helps bring the whole video together.
#13) DoctorsinItaly
The DoctorsinItaly explainer effectively conveys the company's mission and message engagingly. Using modern 2D motion graphics, they can share their story quickly while still maintaining the viewers' attention.
It is unique in that it does not introduce the startup at the beginning of the video but instead reveals it as the solution to the problem.
This clever twist helps keep viewers engaged and provides an exciting way of showcasing the company's services.
The animation helps emphasize key points and ideas throughout the video, adding fun and entertainment. Theillustration style is ideally suited to the topic, allowing viewers to quickly understand the message without feeling overwhelmed.
#14) Acast
Acast's explainer uses bold and contrasting colors to make it stand out while introducing a wide range of characters to appeal to everyone.
The animation is constantly in motion, creating an engaging and exciting atmosphere that educates users on Acast's offerings.
#15) Communyco
Communyco's explainer video is full of vibrant and engaging animations that capture the viewers' attention. The characters are unique, which ensures viewers of all backgrounds feel represented in the video.
The voiceover is perfectly paced, and the script is cleverly written to ensure viewers have a clear understanding of the app. The video also has a light and fun tone, which keeps it exciting and entertaining.
#16) ONO
ONO's explainer video stands out from the rest due to its vibrant and dynamic animation that quickly conveys the message of ONO's decentralized social network engagingly and entertainingly.
The video successfully captures the fast-paced nature of the modern world and its involvement with blockchain technologies.
ONO does an excellent job of conveying the benefits of its platform to viewers in a welcoming and inviting tone.
Not only does ONO's explainer video draw attention to the brand, but it also clearly communicates the features and benefits of the product concisely and entertainingly.
#17) TrueCar
It conveys the message that TrueCar is not just another car-buying platform but a tailored experience that fits the lives of each of its customers.
The video features four characters, all of whom experience the joys of car buying in their way.
Through these vignettes, we explore TrueCar's unique features: the ease of finding the right car for each individual, the confidence of knowing the price upfront, and the convenience of having a great deal delivered to your doorstep.
The animation style is vibrant and engaging, and the voiceover is smooth and conversational.
#18) Med Mart
Med Mart demonstrates the power of animation to engage viewers in a sensitive topic without risking offending anyone. By choosing an animated style,
Med Mart created a detailed and seamless video that conveys its message in an exciting and thought-provoking way.
The 3D animation style used in the video allows for a realistic and immersive experience, with characters and environments rendered in vivid detail.
The animation also utilizes a compelling soundtrack and an intriguing tone to draw viewers in and keep them engaged.
#19) EdgeWise Connect
EdgeWise Connect's explainer is visually captivating and effectively conveys the purpose of the product engagingly and entertainingly.
It starts with an intriguing tone and quickly introduces the user to EdgeWise Connect's seamless VPN switching service.
Through the combination of creative animation and simple language, the video breaks down the complex concept of the product into easily digestible segments.
Also, the video is brief yet comprehensive, explaining the product's features and benefits with precision and clarity.
The audio is also well-crafted, featuring a captivating voiceover that maintains a professional yet interesting tone throughout the video.
#2o) Sendgrid
Sendgrid's explainer is slick, stylish, and visually engaging and can not only grabs and holds the viewer's attention but also conveys the message of the company's core value in a clear, concise, and enjoyable way.
As a result, viewers can understand and remember the video's message in a fun and memorable way.
The video perfectly blends clever, relatable script and lush, colorful visuals to emphasize and reinforce the core message.
This combination creates an impact that lasts in viewers' minds long after they've watched the video.
#21) NSW Smart Places
NSW Smart Places has set a high bar for animated explainers with its engaging and informative video.
Through clever visuals, sound design, and a captivating narrative, the video can explain the concept of Smart Places and the advantages they bring to citizens, businesses, and the public sector in a concise and accessible manner.
The animation features an eye-catching unique art style that retains professionalism, making it stand out from the competition.
The animation successfully conveys the key benefits of intelligent places in an entertaining and easy-to-follow format, demonstrating the power of corporate animation in making complex ideas more accessible.
The video also has an outstanding balance of intrigue, humor, and informational content, making it an enjoyable and informative viewing experience.
#22) Sanlam Indie – Wealth Bonus
Sanlam Indie's "Wealth Bonus" video has creative and captivating visuals, and the overall tone of the video is intriguing and empowering.
The video does a great job of conveying the product's message in an easily digestible manner, and it does so in an informative and engaging way.
It has a clear and concise narrative that will leave a lasting impression on viewers.
The video cleverly uses a combination of music, visuals, and text to make its point, which adds an extra layer of interest and appeal to the video.
#23) Element AI: Work smarter, together
Element AI's explainer video brings to life the company's mission to provide AI solutions that can be applied and scaled in our lives. It does this through engaging visuals, music, and a compelling voiceover.
The video begins with exploring the company's research, APIs, and products before delving into how their AI solutions can be applied. This approach makes the video informative and entertaining without sacrificing one for the other.
It is also visually pleasing, with a unique art style that differentiates it from other corporate animations.
#24) Nest
Nest's explainer video uses animation and real Nest products; the video effectively explains the features and benefits of Nest products in a visually appealing and engaging way.
The animation is used to demonstrate abstract processes, such as data moving between devices, in a way that is easy to understand.
Using bright colors and simple shapes adds a fun and dynamic element to the video, making it more memorable and entertaining.
Nest's corporate animation has set a high standard for other brands, making it clear that animation can be an effective tool for business communication.
#25) HootSuite
In a short and engaging 2-minute video, HootSuite can convey a complex message about its social media management platform simply and entertainingly.
Through simple shapes and playful animations, it effectively guides viewers through the platform's inner workings, showcasing its features and benefits in a way that is easy to understand.
The video also uses an intriguing and captivating tone to engage viewers and keep them hooked until the end.
FAQs
How to make animation videos for business?
Creating engaging corporate animations requires creativity, storytelling, and technical skills. By following these steps, you can create animations that effectively convey your message, engage your audience, and achieve your desired outcomes:
Determine your goal: Before starting the animation, it's essential to understand the project's purpose. What message do you want to convey? Who is your target audience? What is the desired outcome?
Script Writing: After determining the goal, you should write a script that conveys your message clearly and concisely. The script should also include a storyline and characters to which the audience can relate.
Storyboarding: Once you have a script, the next step is to create a storyboard that outlines the key scenes and visuals of the animation. Storyboarding helps you visualize how the animation will flow and allows you to make adjustments before starting.
Character Design and Moodboard: Once the final storyboard has been approved, animators develop a mood board. This mood board contains character designs and images adapted to the client's brief and storyboard theme. The mood board serves as a visual guide and inspiration for the illustrations.
Illustrations: After determining the visual style, a sample illustration can be prepared for the client to examine. This will allow them to visualize the animation and provide feedback and preferences. Based on this feedback, the final illustrations for the animation can be created.
Voiceover and Sound Effects: Voiceovers and sound effects are important elements that can make or break animation. Choose a professional voice actor who can bring your script to life and use high-quality sound effects to enhance the overall experience.
Animation: Now, it's time to bring your storyboard to life through animation. Use a combination of animation techniques to create visually appealing and engaging animations. Keep the animation simple and easy to follow, and avoid using too many complex elements that may distract the audience.
Editing: Once the animation is complete, editing and refining it to ensure it meets your goals and objectives is essential.
Why use animated videos in business?
Animated videos have become a popular way for businesses to convey important information to their audience engagingly and entertainingly.
They are particularly effective in grabbing viewers' attention and keeping them engaged throughout the video.
Moreover, animated videos can simplify complex concepts and ideas, making them easier to understand. There are no limitations to the types of animation that can be used, allowing creativity to flourish in the content creation process.
Another advantage of animated videos is that they can be easily shared on social media and other digital platforms, increasing their reach and audience engagement.
Animated videos can be cost-effective compared to live-action videos as they require less production time and resources. All in all, animated videos have proven to be an effective marketing tool for businesses, serving as a powerful way to communicate with customers and prospects and ultimately driving business growth.
How much is corporate video animation?
Businesses utilize corporate video animation to improve brand identification, customer engagement, and product promotion. However, corporate video animation costs vary based on many aspects.
A corporate video animation may cost $5,000 to $50,000 or more, depending on its complexity, graphics and animation quality, degree of detail, duration, and production value.
The cost also depends on the animation studio's reputation, the animation technique (2D, 3D, motion graphics, etc.), and the video's plot.
Corporate video animation increases brand exposure, customer engagement, conversion rates, and revenue. Thus, corporate video animation is a long-term business investment.
What are the different corporate animation styles?
Whiteboard animation is a type of animation that mimics the process of drawing on a whiteboard or chalkboard.
It involves an artist drawing simple illustrations with a marker on a whiteboard while a voiceover explains the topic.
This style is often used for explainer videos, training videos, and educational content.
2D animation is the traditional form of animation that uses flat, two-dimensional characters and environments.
This style is used for various content, including commercials, promotional videos, and educational materials.
2D animation is a versatile style that can create different moods and tones, from humorous and lighthearted to serious and informative.
3D animation is a modern style that uses computer-generated graphics to create more realistic characters and environments.
This style is ideal for companies that want to showcase their products or services in a highly engaging and immersive way.
3D animation can be used for various purposes, including branding, advertising, and product demonstrations.
Stop motion animation is a unique style that involves creating a series of still images, each with minimal changes, and then animating these images sequentially. This style is often used for commercials or promotional videos that want to stand out. Stop-motion animation can create a distinctive look and feel that is both nostalgic and fresh.
Infographic animation is a style that combines data visualization with animation.
This style is commonly used for explainer videos that turn complex data and statistics into easy-to-understand visuals.
Infographic animation can be a powerful tool for companies that want to explain their products or services clearly and compellingly.
Cut-out animation involves creating animations using pre-drawn characters and objects, then cutting out and animating.
The style is commonly used in explainer videos and educational content. The technique is cost-effective and time-efficient as it uses pre-drawn elements.
Typography animation uses motion graphics to animate text. It includes animating letters, words, or phrases to increase meaning or impact.
In advertising, cinema, video, and online design, this animation may communicate information, provide visual appeal, or evoke emotion. Typography animation may be basic, subtle, elaborate, or dynamic, depending on the goal.
Silhouette animation is a form of animation that involves creating characters or objects in black against a plain background.
It is a technique that has been used since the early days of animation and is widely popular in various media, such as movies, TV shows, and video games.
Silhouette animation is known for its simplicity and ability to convey emotions and actions with minimal detail, making it a powerful tool for storytelling.